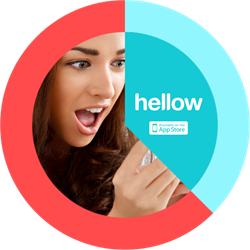 Having people's opinions, experiences, and moments shared in the right instant empowers the human potential in society. We work every day on making an app that helps improve communication for everyone. - Stephan Starke
Delaware (PRWEB) August 12, 2014
In every lifetime, there are millions of moments just waiting to be shared, and what better way of sharing them than at the most opportune moment?
Hellow is the newest photo sharing app on the App Store that offers location and time delay sharing. A bit like Instagram, only better, Hellow takes the form of a mobile time capsule that lets users capture a moment and lets them specify when and where they want to share it.
The app allows users to make their presence felt even when they can't be around their friends in person. They can send a timed Hellow at precisely 12:01 AM to celebrate a friend's birthday. Or surprise family and friends with food recommendations when they dine at a restaurant and send them photos of meals worth trying through location-based photo delivery. Users can even have their friends go on a scavenger hunt where they can unlock picture after picture at set times and locations. Planning little surprises that reconnect relationships has never been more fun and exciting.
"We created Hellow for people who want a new way of sharing their experiences. Hellow allows users to connect, discover, explore, and share special moments at the right time or place," says Hellow co-founder Stephan Starke. "Our focus is on making an app that helps people share in context."
In addition to scheduling posts, Hellow lets users:

Know when or where a photo will be available
Save photos directly onto their mobile devices
Add up to 140 characters of text with each Hellow
Tag and interact in real time with friends within each post
Capture images easily through seamless camera integration
When a Hellow is opened and the chat window pops up, everyone tagged in the image can like, comment on, and save their favorite images. Have fun sharing Hellow's photos on social media platforms with their unique hashtag formula: just add "OW"—a tribute to the word "Wow"—to the end of the appropriate word, and be part of the growing Hellow community (for example, "moment" a "#momentow").
"Having people's opinions, experiences, and moments shared in the right instant empowers the human potential in society," adds Starke. "We work every day on making an app that helps improve communication for everyone."
Download Hellow on the App Store or follow them on Twitter and Tumblr.
About Hellow, Inc.:
Hellow Inc. is an emerging tech startup founded in 2014 by a truly passionate team of people. The Hellow journey started as a simple idea which led to the exploration of new ways to communicate. Sharing a photo in a specific time was the original idea, but now it goes far beyond that. Engineers, graphic designers, cloud experts, geeks, entrepreneurs, and visionaries are part of the secret sauce. Together, they are the brain, heart, and soul of Hellow. Creative and passionate people out to create a better and connected world.