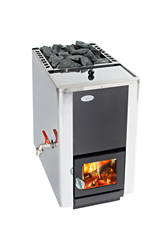 Keith Raisanen, president of Helo: "For sauna enthusiasts, the wood burning sauna experience is unlike any other...With the new CE emissions and safety listing, the Helo PK Series makes the experience
Cokato, MN (PRWEB) May 31, 2014
Helo, a leader in the sauna industry since 1919, is pleased to introduce a new line of CE listed PK Series wood burning sauna stoves. These heaters are among the first to carry listings for safety and emissions testing, helping to create a safer, more environmentally friendly, authentic sauna experience.
Though many saunas that have wood burning sauna stoves are built in more remote locations, including lake houses, cabins, and other locations where a supply of wood is prevalent while access to 240 volt electrical may be limited, the unique experience of a wood burning sauna makes the traditional heat source enticing to homeowners in both urban and suburban locations. While building codes are often more lenient in rural communities, more communities are requiring safety listings on all heat sources, including wood burning sauna stoves.
In addition to the CE listing, the Helo wood burning sauna stoves have improved on the heating efficiency and comfort for the sauna while also updating the design with a sleeker, stainless steel finish. Serving several functions, the stainless steel construction provides a brighter, more updated look to any new or existing sauna, and it provides the added benefit of improved corrosion resistance. Offered both with and without water tanks, the stainless steel heaters with large rock capacities are ideal for enjoying the soft steam created from water ladled on the rocks.
When asked about the new design and listing, Keith Raisanen, president of Helo, responded:
"For sauna enthusiasts, the wood burning sauna experience is unlike any other. From the preparation and tending of the fire, to the heating of the room and the aroma of the burning logs, to the actual sauna environment where greater variations in temperature and humidity can be achieved based on bather preference, the wood burning stove is beyond compare. With the new CE emissions and safety listing, the Helo PK Series makes the experience even better by reducing emissions and creating a cleaner, safer environment."
To learn more about the new CE listed Helo PK series wood burning sauna stoves, contact Helo or a local Helo Dealer.