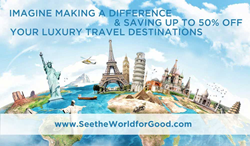 Freedom is Choosing Where You Will Travel. Rewarding is Never Having to Pay Full-Price Again
Santa Monica, CA (PRWEB) July 22, 2015
Santa Monica based staffing service Recruiting for Good launches two new programs this week to help support the programs and services of Beauty Bus Foundation and thank individuals with giving hearts for helping.
Rewarding Referrals for Good
"People are socially connected to 300 people, and 1 in 4 people is connected to an executive decision maker," according to Carlos Cymerman, Recruiting for Good Founder. "People can help fund the Beauty Bus by simply introducing an executive decision maker to use Recruiting for Good. In return, our staffing agency will share a portion of the finder's fee to fund the Beauty Bus, and to reward fun travel."
Beauty Bus passionately believes that even in the face of life threatening and chronic illness, men, women and children, and their caregivers, deserve dignity, hope and respite through grooming and beauty services and pampering products.
"Supporting the Beauty Bus Foundation is deeply rewarding for us at Recruiting for Good. We are proud to be a part of a program," Cymerman added.
"At Beauty Bus our supporters are helping so much more than just changing the beauty on the outside – they are part of a continuum of care patients receive from their medical teams. The palliative care we provide through the lift and gift of beauty is a vital part to the emotional well-being of the patients and families we care for. We are grateful to the Recruiting for Good team for getting on the bus," said Ronda Wilkin, CEO, Beauty Bus Foundation.
Making Fundraising Fun and Rewarding for 100 People
See the World for Good is a service is only available for Southern California residents. Recruiting for Good, a social staffing solution is rewarding just 100 people who participate to help fund the Beauty Bus Foundation with fun travel destinations for family and friends in 2016 that include Beauty Foodie destinations, good student travel, and music festivals. People, who want to make a difference just need to refer hiring managers and executives to use Recruiting for Good to earn travel rewards.
About
Beauty Bus Foundation delivers dignity, hope and respite to chronically or terminally ill men, women and children and their caregivers through beauty and grooming services and pampering products. Since their founding in 2006, Beauty Bus has served more than 5200 clients with more than 7300 free services in the Greater Los Angeles Area and has shipped more than 35,000 Bags of Beauty nationwide. http://www.beautybus.org
Since 1998, Recruiting for Good has been a staffing solution, helping people find great jobs, make a difference, and enjoy life. For more information about using Recruiting for Good, check out RecruitingforGood.com.
Fuzeus, is a social sharing and fundraising platform that deepens the connections between nonprofits and the individuals and communities that support them. We make it easier to find, share and care about the good being done in the world by providing you with the tools to turn your voices into action. http://www.FuzeUs.com