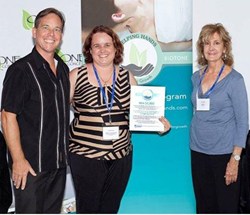 Current massage therapy students can also apply online for one of four $1,000 grants at the program's web site.
Akron, OH (PRWEB) August 01, 2013
The California Academy for the Healing Arts in Costa Mesa, CA was awarded a $1,000 Helping Hands school grant package at the ONE Concept School Rally held July 23 at Earthlite headquarters in San Diego County. The Helping Hands grant program, developed by BIOTONE® and BIOFREEZE®, supports the massage therapy profession through students and school grants. ONE Concept, the school rally organizer, partnered with BIOFREEZE and BIOTONE to promote the grant program during the conference. Four $500 Helping Hands student grants will also be awarded in partnership at the September ONE Concept American Massage Conference in San Diego.
Ariel Hubbard accepted the grant, $500 cash plus a $500 product package, for her winning school. "We are very grateful to BIOTONE and BIOFREEZE for their support of our profession, and are very fortunate to have won this Helping Hands Gifts for Growth grant," stated Ms. Hubbard, Chancellor, California Academy for the Healing Arts and C.E.O., Hubbard Education Group. "As we celebrate our tenth anniversary, this grant will assist our massage and energy work students to pursue their educational experience in greater depth. The grant helps us bring more product and equipment into our classroom for use by our students. Our students attended the American Massage Conference last year and are looking forward to it this year. We all had a wonderful experience with their classes and networking events."
Current massage therapy students can also apply online for one of four $1,000 grants at http://www.BiotoneBiofreezeHelpingHands.com. This application requires a 100 word essay on how as a massage therapist my helping hands will make a difference. A team of industry representatives will review all submissions to choose the four winners. In addition to the students' $1,000 grants, their schools will receive a $500 grant and a $500 product package. Applications must be received by November 1, 2013. Winners will be notified by December 1, 2013. facebook.com/HelpingHandsGiftsforGrowth
About ONE Concept
The ONE Concept Group is the organizing body for the American and Canadian Massage, Chiropractic, Acupuncture & Spa Conferences, held in Atlanta, GA, San Diego, CA and Niagara Falls, Ontario, Canada. Committed to an interdisciplinary approach to wellness, we promote a practical, hands-on, integrative approach to holistic health. The organization's core value is sustainability of the healing arts and the planet.
About BIOTONE
BIOTONE® products are a top choice domestically and internationally across a range of markets, including spas, massage therapy private practices, professional massage training schools and also are widely used by physical therapists, chiropractors, and hospitals. BIOTONE complements its massage and spa treatment products with a wide selection of aromatherapy, music, videos and accessories all designed to enhance a practitioner's knowledge and sense of well being.
About Performance Health
Featuring leading brands like Biofreeze®, Thera-Band®, Prossage® and Pedigenix®, Performance Health offers a broad portfolio of products for the massage, therapy, rehabilitation, wellness, podiatric and performance markets. In addition to market-leading products, Performance Health provides practice building support, evidence-based protocols, clinical and product education, turn-key dispensing and pain management solutions.