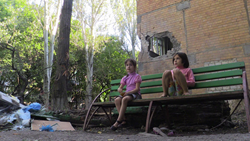 "I want to help these people – as many as I can. Together, we can make a difference."
(PRWEB) January 26, 2016
Patrick Lancaster, a video journalist from St. Louis, Missouri has been on the front lines of the Ukraine conflict for 21 months, longer than any other western journalist. During his time there, his work has included coverage of many active warfare clashes as well as putting a face on the human impacts of the war on the citizens here.
"This has been a long journey," says Lancaster. "I have been here for almost two years and I have seen many scary things. I have been shot at, seen people shot, witnessed hundreds of casualties but the worst impact is for those who were not killed but face a life left in ruin. I want to help these people – as many as I can. Together, we can make a difference."
Since the conflict began in Donbass, whole communities have been reduced to rubble. Such is the case with the town of Spartak, a community of over 1,500 that has been reduced to little more than 100 persons remaining as homes have been irreparably damaged and families have been shattered. Lancaster's campaign has seen some encouraging successes. In December alone, the team was able to distribute more than 6400 lbs of food and supplies to families in need. The project focuses on ensuring the most basic needs such as clothing, diapers and baby food and supplies to allow even the most basic quality of life for families that have been most impacted.
Every week, Lancaster's team gets into the neighborhoods and villages most compromised to ensure regular outreach to the families that need it. With the dwindling numbers among those still holding out for peace in their home communities, some weeks the aid that is available is able to serve the whole of the population of a town.
The work being undertaken has captured the attention of the international community and the cause has attracted some strong support from contributors beyond the war-torn region. At the present time, the work has received a generous offer from a benefactor from France who has committed to match the sum of all donations made to the relief project to double the impact of the aid being given to these families. This generosity has only been extended for a limited time, so Lancaster is hopeful that those compelled to lend their support will do so now, when their donation has the opportunity to go twice as far. While matched funding is available, the group is reaching out to a worldwide audience with hopes to capitalize on their efforts and best support the children and families that are caught in these inhospitable conditions.
You can help. A donation portal has been established through Paypal to send your support directly to the front lines at Helpvictimsukrainewar(at)gmail(dot)com or using the donation button
Media Inquiries:
Contact: Patrick Lancaster
Phone: +380999378870
E-mail: Chomane1982(at)gmail(dot)com
Facebook: facebook.com/PatrickJohnLancaster
Twitter: @PLnewstoday