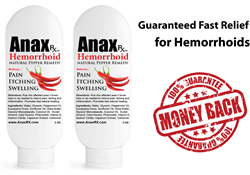 Capsaicin relieves hemorrhoids beyond traditional treatments thanks to the power of hot peppers.
(PRWEB) August 18, 2016
Greensations has launched the world's first hot pepper hemorrhoid cream under their new Anax RX brand. While it sounds a little crazy, Capsaicin, the active ingredient in hot peppers is clinically proven to relieve itching, swelling and pain far beyond traditional hemorrhoid treatments when applied in small doses.
Hemorrhoids are one of the most common ailments affecting fifty percent of the population, usually after age 30 and during pregnancy. Most people suffer in silence before seeking medical treatment, instead opting for OTC products that mask symptoms with lidocaine and steroids. In extreme cases, surgery to remove clotted veins is used, but in most cases doctors recommend ointments, sitz baths, witch hazel wipes and a better diet. Most hemorrhoids eventually shrink by themselves, but it can take weeks or months and they often reoccur.
While OTC and prescription medications provide only limited relief, the capsaicin in hot pepper extract actually stops pain and itching at the source, while promoting fast healing. Unlike traditional hemorrhoid treatments, Capsaicin actually increases blood flow and shrinks clotted blood vessels by depleting the natural chemicals that cause swelling and pain. Anax RX is designed to specifically target and shrink hemorrhoids without the harmful side effects of medications.
"Anax is made for use down-under and it's not nearly as hot as typical capsaicin pain creams. While there is a warming sensation, it's counteracted with the cooling sensation of peppermint oil. It's guaranteed to stop itching in under 30 seconds while reducing pain and inflammation like no other hemorrhoid remedy. It's all natural and safe for long term use. Anax is changing the way hemorrhoids are treated forever thanks to the power of the pepper," says Wayne Perry, CEO of Greensations Skin Care, LLC.
Anax RX is available at drug stores, natural markets, online retailers and at http://www.AnaxRX.com. Free samples are available for qualified media, medical and retail personnel upon request.