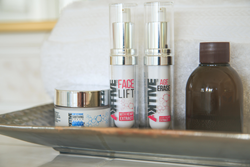 "Most importantly, all of our products are made with US grown hemp that contains less than 0.3% THC. It's a healthy, functioning alternative for the on-the-go individuals in our world."
SOUTHLAKE, Texas (PRWEB) August 20, 2019
"We strive to give back in research, education, and support of the communities and fields that we work in," said Jennifer Wolbers, Founder and Owner of Aktive. "Most importantly, all of our products are made with US grown hemp that contains less than 0.3% THC. It's a healthy, functioning alternative for the on-the-go individuals in our world."
As a natural solution to improving overall health and beauty, with tried and trusted ingredients, Aktive's products are infused with hemp extract. By educating and ensuring a quality product, Aktive's goal is to change lives by showing consumers what is possible with a more natural health-conscious mindset.
The Aktive production process is known for pairing hemp extract with innovative product delivery systems for the highest quality hemp-derived CBD products, in the exact doses needed for the best results.
The Aktive team contains some of the most well-known educators in the world of Hemp CBD, including Harrison Forbes, Michael J. Breus, Ph.D., and Linda Chae. Each product is expertly reviewed throughout the entire production and distribution process, and in result, grabbing the attention of major retail chains making this product available to the public all across the United States.
"Since Hemp-Derived CBD is still relatively new, we take pride in providing educational information, articles, and studies that help people everywhere realize the potential benefits of this compound, without the psychoactive effects of THC," said Wolbers. "Paired with other natural ingredients, our products are sustainable, healthy, and clean for all of our consumers."
Aktive products provide a wide range of healthy solutions to consumers, including Joint Support Oral Spray, Sleep Solution Oral Spray, Pain Cream with Emu Oil, and a full line of Skin Care.
For more information, visit https://aktivetoday.com/.