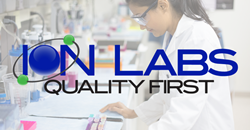 LARGO, Fla. (PRWEB) March 06, 2019
Ion Labs has begun formulating custom hemp extract with CBD products for globally recognized brands that are looking to work with an established contract manufacturing with long-term partnership goals. Ion Labs has mastered the skill of aiding businesses in adapting to their own success. With sales success comes product demand and operational growth. Many other CMOs lack innovation, the facility space, and responsive/transparent customer service to keep up with successful brands. Ion Labs provides all the elements needed to create a successful business partnership.
Ion Labs is also looking to work with businesses who have been having trouble expanding their operational output due to their poor current manufacturing. Businesses that are looking increase their product manufacturing output are encouraged to visit http://www.ionlabs.com to learn more about Ion Labs' premier quality first contract manufacturing operation.
Ion Fulfillment has now newly introduced two CBD products: CBD 500 mg tincture and CBD liquid capsules. If businesses are interested in purchasing private label hemp extract with CBD, please visit http://www.ionfulfillment.com and fill out the inquiry form on the website to receive pricing and product information.
Ion Labs, one of the leading contract manufacturers of dietary supplements, pet supplements, hemp/CBD supplements, skin care products, and OTCs in 2019 is taking their product execution to the next level for powder manufacturing.
About Ion Labs
Ion Labs, Inc. is an FDA registered and NSF cGMP certified contract manufacturer that has been providing customers with the highest quality products in the dietary supplements, pet supplements, OTC drugs, skin care products, and hemp extract with CBD manufacturing. Ion Labs offers a wide array of product development, contract manufacturing, packaging, raw material/finished product testing, and regulatory support to domestic and international customers.
Ion Labs guarantees three main components to every client: transparency, trust, and traceability. Transparency in their operations and communication. Trust in their methodology and experienced staff, and traceability in the high-quality products they develop and continue to test for stability year-after-year. When businesses decide to partner with Ion Labs and become a customer, they come on-board with the idea to recreate existing products from their already successful catalog and continue to create new products to build their portfolio.