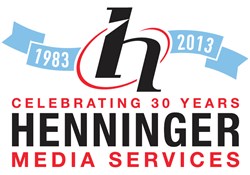 Along with the great hospitality and friendly, relaxed atmosphere, having both creative and technical team members available to us is invaluable.
Arlington, VA (PRWEB) October 31, 2013
For the 36th straight year, the nation will celebrate five distinguished individuals who have woven their unique and immeasurable contributions into the fabric of American culture and the world over. The Emmy award-winning Kennedy Center Honors television special is a production of George Stevens, Jr.'s New Liberty Productions, Inc. "Every fall we look forward to working with the Kennedy Center film team," says Rob Henninger, President of Henninger Media Services. "Each of the five mini-documentaries produced here is projected on the big screen at the Kennedy Center Opera Hall to an audience that is as high profile as you can imagine. George and Michael Stevens have uncompromising standards and it is an honor to work with them." For more than 25 years, the Kennedy Center Honors Film Office has called Henninger Media Services ("Henninger") "home" where it creates each honoree's biographical film. During the 15 weeks of the film office's stay, Henninger Media Services is proud to provide a variety of post-production services.
With Henninger's services come a host of additional benefits for its clients. Unlike many facilities that just provide a suite with an edit system, some third party plug-ins and Wi-fi access, Henninger clients have the privilege of tapping into a host of on-site resources.
"We enjoy coming to Henninger each year. Along with the great hospitality and friendly, relaxed atmosphere, having both creative and technical team members available to us is invaluable," shares Leslie Shampaine, Associate Producer of the biographical films. "Our main objective is to cultivate an environment with the comforts and conveniences that afford our clients the ability to focus on producing their project and not be consumed by other distractions," shares Fred Elliott, General Manager of the Arlington facility. From reception and business center amenities, to engineering and technical support from Henninger's knowledgeable and creative team members, clients aren't isolated to their space.
In the first years of the awards event, the biographical films were done using a true film print workflow. As time progressed the work began to evolve, incorporating facets of the video process to streamline the production. Working with Kennedy Center Honors, Henninger's Vice President of Technology, Sam Crawford, has continued to modify the workflow over the years. "This will be our first year starting the entire process in high definition—from offline to online. With this new approach we will concentrate our energy in the mastering process and utilize less time conforming assets. Working in HD during the offline will give the editors and producers a closer feel for how the footage will look on that big screen."
Producing the biographical films presents a unique set of challenges. With each of the honorees having careers that have spanned over 30+ years, content chronicling the different aspects of their lives often comes from varied sources including—feature films, home videos, family photos, and other media content from around the world. "Unlike most TV shows where everything is primarily shot on the same format, the assets for these films vary greatly and come to us at different times during the fifteen weeks," says Shampaine. All of the materials contain differences in video and sound quality that must also be addressed. Henninger's Senior Video Editor, Jef Huey explains, "We work closely with the offline editors to find the best story without struggling over the ingest and conversion of all the crazy formats used. Because these films are projected on a huge screen during the show, we passionately sweat the details to make them look great." Huey, who has been working on the Kennedy Center Honors since 1983, has experienced these challenges and understands the importance of keeping the various assets organized. With its 200+ TB of centralized storage, media can be accessed across multiple departments in Henninger's tapeless environment. "We are always looking for new ways to make the process simple, but fluid throughout the entire post process—from the offline edits, color correction, audio mix, and final mastering," adds Huey.
The issue of audio is one of the most crucial elements to prepare. From a mixture of sound elements with differing sonic qualities—some mono, some stereo, others preserved digitally from vinyl or quarter-inch tape—have to be equalized, effected and mixed to sound as if they are from one homogenous source. "A lot of planning and hard work goes into these biographical films, and the last thing we want is for them to be anything less than stellar on the evening of the ceremony," comments David Hurley, Senior Audio Engineer at Henninger. "During the screen-test rehearsal, I'm intently listening to how the mixes react in the Kennedy Center Opera House, identifying places where any small enhancements can be made to ensure that the films have a robust sound in the packed house."
Due to the nature of the gala and the high-profile status of of Washington, D.C.'s 'who's who', the eleventh hour leading up to the grand evening is focused on making the films look and sound their best, including last minute adjustments to scripts and late arriving materials. Reflecting on her past eight years as producer, Shampaine adds, "The last days are usually a volatile time with the project. We get changes that may require re-recording of narration and/or re-editing of images. Through it all—late nights or over the weekend, the Henninger team is always flexible with helping us meet the deadline."
It all culminates on Sunday evening, December 8th, with the taping of the show. Upon completion of the taping, the line cut and the individual camera footage reels are brought back to Henninger to have safety clones made prior to being shipped to Los Angeles. "We simply could not produce these films without Henninger's creative and technical support, and the unique collaborative teamwork they provide from start to finish," shares Kennedy Center Honors film producer and writer, Sara Lukinson. The 2013 recipients to be honored are: opera singer Martina Arroyo; pianist, keyboardist, bandleader and composer Herbie Hancock; pianist, singer and songwriter Billy Joel; actress Shirley MacLaine; and musician and songwriter Carlos Santana. The celebration is scheduled to broadcast on CBS on December 29, 2013 at 9:00-11:00 p.m., ET/PT.
###
ABOUT HENNINGER MEDIA SERVICES
Celebrating 30 years in the industry, Henninger Media Services (HMS) provides video editing, audio, graphics, Blu-ray and DVD authoring, telecine, QC, duplication and distribution solutions to a diverse client base; including broadcast, corporate, advertising, non-profit, and government. Located in Arlington, Virginia, HMS offers services in 4K Ultra HD, High Definition, Surround Sound, 3D convergence and finishing, and film transferring. Complete information about Henninger Media Services may be found at http://www.henninger.com.