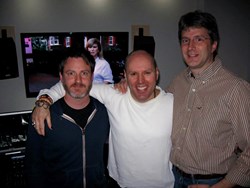 Henninger took me under their wing with the objective of taking my film to a whole new level!
Arlington, VA (PRWEB) January 15, 2014
Recently, Henninger Media Services' Kevin Barker finished color correction of producer, Mike Gutridge's horror film, "ThE bOnE gArDeN!", in one of the post-production facility's four Da Vinci Resolve suites. The collaboration was a perfect match between Gutridge's creative vision and Barker's expertise in establishing a consistent look throughout the film, using the Resolve's new tools to more seamlessly overcome the inherent challenges in production.
Back in 2010 Gutridge, an avid horror film fan, set out to write a screenplay for a friend, Adrienne King. King is most recognized for her starring roles as Alice Hardy in the iconic horror films, "Friday the 13th"- Parts 1 and 2. However, due to complexities of schedules and budget limitations, the project was placed on hold. At the suggestion of King, the decision was made to create another film on a smaller scale and budget. In a creative burst, the script for "ThE bOnE gArDeN!" was birthed in 10 days.
Shot with a Canon 7D camera, Gutridge was well aware that he would somehow have to address the issues experienced with lighting during production. "My biggest challenge that we faced revolved around the weather and time of day in which we were shooting scenes," remarks Gutridge. "There were many scenes shot at night, that required lightening. There were also day scenes in which some were shot during cloudy times and others under clear, sunny skies. I was concerned about how we would make these variances look seamless." Seeking advice for the best way to approach the dilemma, Gutridge called his old friend, Lauren Meschter, Senior Colorist at Henninger Media Services. "At Henninger we strive to adhere to our Core Values; recognizing that they are best exhibited through the projects that we work on for our clients," comments Meschter. "I knew we had the talent and the tools to meet his objectives." What Gutridge received was more than just valuable, professional advice from his friend/colleague.
Soon after the phone call to Meschter, Gutridge was in conversation with a member of Henninger's media consultants. "I knew Henninger was the best around, but I was amazed that my initial phone call for advice was developing into an actual project with Henninger," reflects Gutridge. "Henninger took me under their wing with the objective of taking my film to a whole new level!" Tasked with the role of color correcting the film, Kevin Barker, a Senior Editor and prospering Colorist, took on color correcting the film as a development project. Assessing the final product Barker remarks, "Working on 'ThE bOnE gArDeN!' with Mike was a great pleasure. For this being my first feature color correction, I found a great set of tools in the new Da Vinci Resolve 10."
Marketed as "Hollywood's most powerful and creative color correction," The Resolve 10, Blackmagic Design's latest release, offers new features that certainly give colorists expanded creative options. With a complete set of basic editing and audio tools, colorists have the ability to do simple editorial tasks common to traditional NLEs. "Throughout the project I used two of the Resolve's features often— the split-screen tool and the noise reduction filters," shares Barker. "Given the deviations between scenes, I used the split-screen tool to compare previously corrected scenes with the current scene on which I was working. It really made a difference in creating a consistent look between scenes and takes with varied color temperatures." One of the biggest obstacles of most independent films is the budget. As a result, some aesthetics have to be compromised— at times lighting is the victim. "Being able to use the Resolve's noise reduction filters, to eliminate or minimize flickering introduced by the use of fluorescent lights, were invaluable," Barker adds. Other enhanced features, such as Optical Quality Processing and True Real-time Playback performance, boost productivity and workflow.
The approach to correcting the film was simple. Gutridge, influenced by John Caprenter's "Halloween," wanted the film to have a natural, everyday look and feel, although in the background ominous things are taking place. "There is definitely a point in the film when the story unravels and becomes very dark," recalls Barker. "As the plot thickens, we increased the contrast and desaturated the color to reflect the intensity of the moment." Commenting on the review of the finished color grading, Gutridge expresses his pleasure with working at Henninger. "At the start of the review, Kevin handed me a pad to note any issues with the color grading. I was literally speechless by what I saw. My experience with Henninger— the facility culture; the talented staff, and the equipment, make it a one-stop shop. I can't wait to return."
Currently the film is still in audio post production. With a projected completion date set for sometime in March of 2014, Gutridge is planning to have the world premiere of "ThE bOnE gArDeN!" on Friday, June 13th, in Baltimore, Maryland. "Considering that the film stars several actors from the "Friday the 13th" series, I thought it would be a great homage," says Gutridge. The film is also slated to screen in Erie, Pennsylvania at the "Eerie Horror Fest," in October.
ABOUT HENNINGER MEDIA SERVICES
Celebrating 30 years in the industry, Henninger Media Services provides video editing, audio, graphics, Blu-ray and DVD authoring, telecine, QC, duplication and distribution solutions to a diverse client base; including broadcast, corporate, advertising, non-profit, and government. Located in Arlington, Virginia, HMS offers services in 4K Ultra HD, High Definition, Surround Sound, 3D convergence and finishing, and film transferring. Complete information about Henninger Media Services may be found at http://www.henninger.com.