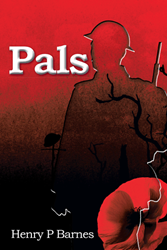 "The book describes what ordinary people did to cope with war – both in the service and at home," Barnes says. "It is not a war story per se, but rather a story about people coping with their circumstances, which in this case is a war."
LEEDS, England (PRWEB) May 26, 2015
Inspired by his love for England and the story of the Accrington Pals of World War I, author Henry P Barnes decided to write his newly published book, "Pals" (published by AuthorHouse UK).
On August 6, 1914, the English Parliament called for an increase in Army numbers by half-a-million men, due to the inadequate numbers of already enlisted men in the armed forces at that time. From this parliamentary directive, throngs of small infantries called "pals battalions" were created. The Accrington Pals was one of these battalions.
In "Pals", Barnes goes into vivid detail to chronicle the life and times of the men who volunteered to serve England during the tumult of WWI through a fictional account of a soldier fighting on England's Western Front.
Albert Webb wears many hats; he is a son, brother, best friend, footballer and mill worker. But his life takes a turn when he enlists in the pals battalion of Accrington, during which time he must come of age and confront the horrors of war. These experiences, coupled with the loss of his best friend and father, test Webb's inner strength and sense of self.
"The book describes what ordinary people did to cope with war – both in the service and at home," Barnes says. "It is not a war story per se, but rather a story about people coping with their circumstances, which in this case is a war."
"Pals"
By Henry P Barnes
Hardcover | 6 x 9 in | 408 pages | ISBN 9781496989024
Softcover | 6 x 9 in | 408 pages | ISBN 9781496989017
E-Book | 408 pages | ISBN 9781496989031
Available at Amazon and Barnes & Noble
About the Author
Henry P Barnes works in healthcare as a manager in a busy teaching hospital in the north of England. He was inspired to get back into writing almost three years ago when he lost his wife to a sudden and tragic illness. He used writing as a way of dealing with grief. Barnes counts among his interests a love of history, fell walking, cycling, music and theater. He is an avid supporter of his local football team. "Pals" is Barnes' first attempt at publishing a work of fiction, although he has penned three novels, two stage plays and a screenplay, all yet to be published.
AuthorHouse UK Ltd., an Author Solutions, LLC self-publishing imprint, is a leading provider of self-publishing, marketing, and bookselling services dedicated to serving authors throughout the United Kingdom. AuthorHouse UK is committed to providing authors the best self-publishing experience through a wide array of products and services designed to help individual authors realise their unique creative vision. AuthorHouse UK assigns each author a personal publishing, marketing, and book consultant to provide professional guidance throughout the self-publishing process. To date, AuthorHouse UK has released more than 6,500 titles. For more information or to begin publishing a book today, visit authorhouse.co.uk or call 0800 1974150 or follow @AuthorHouseUK on Twitter for our latest news and updates