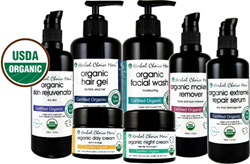 We are delighted to receive the USDA Organic Certified status, the highest quality an all natural product line can achieve.
San Antonio, Texas (PRWEB) July 25, 2014
Max Koutny, president and founder of Herbal Choice Mari skin care products, today announced that the company and all 130 of its organic, all natural skin care products have just been granted USDA Organic Certification. To be certified as organic, a manufacturer, grower or product handler must meet a set of stringent requirements under the USDA's National Organic Program (NOP). Receiving the USDA Organic Certification Seal demonstrates a company's ongoing commitment to a healthy planet and assures consumers and buyers that the company, products and individual ingredients meet the NOP guidelines in regard to the National List of Allowed and Prohibited Substances.
"We are delighted to receive the USDA Organic Certified status, the highest quality an all natural product line can achieve," states Max Koutny of Herbal Choice Mari. "Our organic skin care products are made with a complete commitment to maintaining a healthy planet and producing superior, health and beauty products made from raw, whole food organic ingredients grown on organic farms. The "Certified Organic" seal on our label sets us apart from other, non-organic skin care lines that typically use fillers, additives, chemicals and synthetic ingredients to water down their products. The Herbal Choice Mari products are a world apart from the rest, and we will continue to develop excellent products that are 100% natural and without any type of chemicals."
Herbal Choice Mari is a beautifully crafted line of 100% natural skin care and body products made with organic, wild-crafted, cold pressed herbs, essential oils and natural ingredients, good for the skin and the environment. Each of the skin care products are vegetarian and vegan, which means they are cruelty – free and do not contain any animal or insect byproducts. Additionally, they are free of gluten, soy, corn, and GMOs as well as man-man chemicals, parabens, synthetic fragrances, detergents and artificial dyes.
While many other health and beauty companies may claim that their products are all natural, organic, or healthy, if they do not have the USDA Certified Organic seal on their label, then they are not truly organic. If a consumer has questions about the validity of a company's advertising claims, there are three, simple steps that they can take:
1. If a product is certified as organic, it will have a "USDA – Organic Certified" seal on the front label or a "Made with Organic Ingredients" statement. See attached fig 1.
2. If the label has a USDA seal or "Made with Organic" statement, it must also list the name of the certifying agency as: "Certified Organic By," on the back of the label below the company's name. See attached fig 2.
3. If a company claims to be organic in their online or printed advertising, ask to see a copy of their "Organic Certificate." This certificate will show you which of their products have been certified. If they do not have a certificate, or if their individual products are not listed as being certified, then the certification is not genuine. See attached fig 3 and fig 4.
Herbal Choice Mari is dedicated to providing excellent customer service and follow through on all of its products. All the products come with a 60-day guarantee with free shipping on orders of $50 or more. To order, call 888-417-1375.
For a complimentary sample of our products or to visit our online catalog, please go to: http://www.herbalchoicemari.com.
Contact:
Max Koutny or Mary Inoa
t. (210) 599-1109
e. service(at)naturesbrands(dot)com