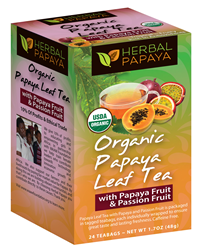 We have been working non-stop to implement the suggestions from our face-to-face interactions at the Natural Products West Expo.
Murphy, Texas (PRWEB) March 31, 2014
"Meeting with customers, media, distributors and retailers, was truly a pleasure and very enlightening. We learned so much, and truly appreciate the feedback we received. We have been working non-stop to implement the suggestions from our face-to-face interactions at the Natural Products West Expo," says Dr. Unoma Okorafor, CEO and founder of Herbal Papaya.
Herbal Papaya sources Organic non-GMO papaya for its line of teas, extracts, juices, and powders. To meet the desires of customers, they are announcing new papaya leaf, fruit and seed supplements specifically formatted to support health and wellness, including:

Healthy weight
Lower bowel health
Blood Platelet health
Healthy mind
Female reproductive support
Immune support
Healthy Heart
Lung and respiratory health
Liver, gallbladder and spleen health
Digestive health
Body Detox
The addition of these new formulas, as well as others in Herbal Papaya's product development pipeline, are evidence of Herbal Papaya's dedication to providing customers the highest quality organic papaya teas and supplements. Members of the Herbal Papaya team, including the founders, Dr. Unoma Okorafor and Jessica Oren, are innovative entrepreneurs at heart and in practice.
"There are advantages to being a small, woman-owned and operated business. We can quickly react to customer requests, implementing product changes quickly. As a team, we are dedicated to the advancement of good health; we invite, and welcome feedback and input from our distributors, customers, health professionals, and retailers. Being small allows us to quickly bring to market what our clients desire," says Jessica Oren, Co-Founder & Director of Marketing and Product Development.
Lorraine Maleeny, Director of Customer Service for Herbal Papaya also attended the Expo West tradeshow. With over 25 years of sales experience and customer service training for large corporations prior to joining Herbal Papaya, Lorraine understands the challenge of implementing product changes quickly.
"The National Products Expo West allowed me to interact directly with customers, distributors, and retailers. What an opportunity to learn what our customers desire from us. After over 25 years as a customer service professional, I am so pleased to be a part of a team that reacts immediately to customer feedback and requests," says Ms. Maleeny.
In addition to the new supplement formulas for papaya leaf and seed extracts mentioned above, the team is working on new papaya leaf tea blends that will be announced soon. Through persistent research and development sparked by a creative and entrepreneurial spirit, Herbal Papaya is dedicated to releasing Papaya supplements for the good health and well-being of consumers across the globe.
About Herbal Papaya
Founded in 2011 by Dr. Unoma Okorafor - a Computer Engineer Ph.D and Social Entrepreneur, Herbal Papaya provides Papaya leaf, seed and fruit products, made from Organic non-GMO Papayas that are cultivated in a socially responsible and sustainable way, which makes them more economically viable for farmers. All products are Kosher-Certified and manufactured in an FDA approved facility in the U.S.A. Herbal Papaya is 100% women owned and operated, grows some of their Papayas on Farms in Africa and gives 10% of Profits to support education for girls in Africa. Through their giving, they have increased the availability of chemical free, organic and non-GMO papayas. Learn more at http://www.herbalpapaya.com.
Media kit: http://www.herbalpapaya.com/media_kit.pdf.