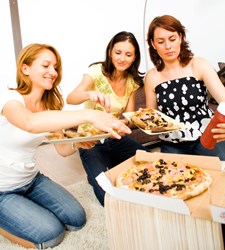 Herbal Magic's Snackbuster helps to say goodbye to giving in, while saying hello to gaining control for weight-loss success.
Toronto, Ontario Canada (PRWEB) September 16, 2013
As the weather cools and the kids are back to school, it's tough not to feel the back-to-school or back-to-the-grind boredom blues. After all, summer's shorts and tank tops are being packed away in favour of fall's heavy knits – too bad that with forgiving fashion options and more time on one's hands, even the best of us could also feel a bit chunky in no time. It starts innocently enough: a second helping at dinner, an extra snack during the day, a busy afternoon with after-school activities that necessitates yet another pizza night. Hunger is a tricky thing; most often, the mind and body mistake cues for thirst, boredom or stress as a cue to eat and overeat. What's more, the stomach is often full before the mind registers the signal to stop eating, causing many to overeat or continue to feel hungry after a meal. Fortunately, there is a way to combat mindless snacking, second helpings and unhealthy food choices. To keep that appetite in check, Herbal Magic is pleased to introduce Snackbuster, which helps to temporarily support a feeling of fullness.
The all-new Herbal Magic Snackbuster supplement combines the unique fibre combination of inulin and glucomannan with chromium and gymnema extract. When taken prior to meals, Snackbuster will help its users to feel full. All Herbal Magic weight -loss programs are focused on three pillars of success: real food, personal coaching and natural health products. As the perfect complement to the Herbal Magic program, Snackbuster can help keep those healthy menu plans and good intentions on track.
Snackbuster is useful for those who consume too much food at each meal or those looking for portion control. This typically happens when waiting until ravenously hungry before sitting down to eat or not listening to the body's cues for fullness. With Snackbuster, feeling fuller prior to meals can prevent overeating at the dinner table. This new product also helps keep blood sugar levels stable throughout the day, preventing excess snacking. As an added benefit, Snackbuster can alter the perception of sweetness, limiting urges to overindulge in sweet treats. With its ability to help stabilize blood sugar levels and promoting a feeling of fullness, Snackbuster is an optimal choice for heavy snackers that never seem to feel satiated during the day or after a meal.
The concept is actually pretty simple: full is the opposite of hungry. Feeling full and satisfied is the key to controlling cravings, preventing overeating and, ultimately, weight loss . Herbal Magic's Snackbuster helps to say goodbye to giving in, while saying hello to gaining control for weight-loss success.
About Herbal Magic Weight Loss & Nutrition Centres
With approximately 280 centres nationwide, Herbal Magic is the largest Canadian owned and operated weight-loss company in Canada. Every Herbal Magic Canada team member has been extensively trained and certified as an Herbal Magic Personal Health Coach. With the support of its Scientific Advisory Team – comprised of naturopathic doctors, nurses and dieticians – Herbal Magic's weight-loss experts have the experience, training and tools needed to support clients throughout their weight-loss journey. Herbal Magic's comprehensive system of real food, personal health coaching and natural health products is, quite simply, a common-sense approach to lasting weight loss. Visit http://herbalmagic.ca to learn more.