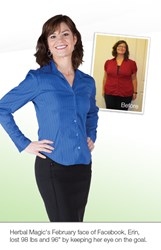 (PRWEB) February 21, 2014
With Valentines Day a thing of recent memory, many feel anxious or hopeless about losing weight when sweet temptation beckons behind every heart-shaped box. Fortunately, there are many ways to show affection without derailing those weight-loss efforts. Herbal Magic is pleased to present 14 ways to avoid those tempting chocolates and candied hearts and achieve weight-loss success.
1. Let loved ones know there is no need to exchange unhealthy treats. Start dropping hints about what might make a better present instead.
2. Show love with a movie pass, flowers or a new tea/coffee mug. Any gift can work, as loved ones know it's the thought that counts.
3. Start healthy habits early with young children. Instead of giving children candy, choose another "treat" like stickers or a fun notepad.
4. Keep a pack of sugar-free mints or gum on hand for when candy cravings strike. Instead of popping candy, try a piece of gum, a sugar-free mint or an H&M's Chocoberry Chew™ instead.
5. Plan to indulge – just a little bit. Choose a small treat, ideally between 75-150 calories, and savour every bite.
6. If holidays just aren't the same without chocolate, try a small piece of dark chocolate (at least 70% cocoa) to satisfy the craving with a small amount of intense flavour rather than a large amount of lesser quality. Better yet, try Snacker's Choice Hot Chocolate, chocolate-flavoured Snacker's Choice Premium Protein Powder or a Snacker's Choice Snack Bar from Herbal Magic.
7. Continue to stay active. Valentine's Day and other holidays occur during the winter months so find a fun winter-inspired activity to partake in. Go for a romantic winter walk, head to an outdoor skating rink or try sledding.
8. Beware of the pre-set menus at restaurants. Order à la carte and share bites, while staying in control of the evening's menu choices.
9. Going out for a romantic dinner is nice, but cooking at home can be equally romantic. Being able to control what you cook will help weight loss stay on track – and those culinary skills, whether basic or advanced, will impress that special someone.
10. Get creative and make a healthy dessert. Melt one piece of dark chocolate and pour over a half cup of strawberries. This dessert is simple yet decadent, and perfect for sharing.
11. Try a new route at the office to avoid candy and chocolate minefields. After all, out of sight is out of mind. Go down a new hallway, take the back staircase… perhaps that new route will lead to a new Valentine, all while avoiding temptation.
12. Keep portions in control and be honest about slip-ups. Everyone makes mistakes. Just get back on track at the next meal.
13. Let Herbal Magic offer the help and support needed to reach that weight-loss goal. Get on track, find the right program and get started before spring! Herbal Magic's comprehensive system of real food, personal coaching and natural health projects provides a common-sense approach to lasting weight loss.
Don't let a holiday that lasts one day discourage you from achieving lasting weight-loss results. Once you resolve to lose weight and change your life, you will have the support and expertise of the Herbal Magic team behind you. You'll reach your goal weight. We guarantee it.
About Herbal Magic Weight Loss & Nutrition Centres
With approximately 280 centres nationwide, Herbal Magic is the largest Canadian owned and operated weight-loss company in Canada. Every Herbal Magic Canada team member has been extensively trained and certified as an Herbal Magic Personal Health Coach. With the support of its Scientific Advisory Team – comprised of naturopathic doctors, nurses and dieticians – Herbal Magic's weight-loss experts have the experience, training and tools needed to support clients throughout their weight-loss journey. Herbal Magic's comprehensive system of real food, personal health coaching and natural health products is, quite simply, a common-sense approach to lasting weight loss. Visit http://herbalmagic.ca to learn more.