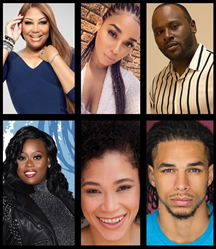 Here TV enthusiastically supports new and diverse voices in the LGBTQ+ community.
LOS ANGELES (PRWEB) August 15, 2019
Season 2 will see the return of main cast members Anthony Bawn and Alexandria McGaughey, who will reprise their roles as Angel and Keisha. New cast members include Traci Braxton (Braxton Family Values), R&B sensation Tamika Scott (Xscape: Still Kickin' it), Kristal Lyndriette Smith (Chasing Destiny w/ Kelly Rowland), and newcomers Jerimiyah Dunbar and Phillip M. Turner.
Conframa revolves around an Afro-American gay couple and their decision to invite a third partner into their relationship and the roller coaster ride that ensues.
"Here TV enthusiastically supports new and diverse voices in the LGBTQ+ community," says Here Media CEO Paul Colichman. "Conframa is our fifth project with Anthony Bawn and we look forward to many more."
Created by Anthony Bawn (Cheetah in August) and loosely based on his own real life story, the series is executive produced by Shaun Cairo (Pitchfork, The House Invictus) and co-written by Matthew Doyle (Chasing Pavement).
Season 2 will begin filming January 26, 2020 with an April 7, 2020 release date. Conframa is produced by APB Productions, LLC and Bawn TV.
Tamika Scott, Anthony Bawn & Jerimiyah Dunbar are repped by Shakir Entertainment Management. Traci Braxton is repped by Soul World Entertainment and Kristal Lyndriette Smith is repped by Dee Roze Entertainment.
Facebook @Conframa
IG @Conframa
Twitter @Conframa
Here TV (http://www.here.tv) launched in 2004, making it the world's first SVOD LGBTQ+ video service and is available on all major US cable operators including Xfinity, Spectrum, Cablevision, FiOS, U-Verse, Cox, as well as Amazon, Hulu, DISH, Sling TV, Roku and http://www.here.TV where it can be viewed on all iOS and Android mobile devices. Here TV reaches millions of viewers each month and has produced Academy award-winning films such as "God's and Monsters" and "Departures." The network has received four Daytime Emmy Award nominations.