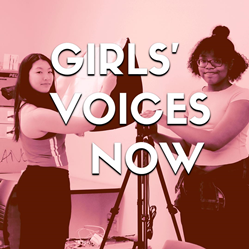 Seeing the world through the eyes and experiences of these young women allows us to look at ongoing inequalities in a way we would not necessarily be able to on our own
LOS ANGELES (PRWEB) December 18, 2019
Here TV, America's first and largest LGBTQ+ video channel, today announced the world premiere of the anthology series Girls' Voices Now, created and directed by young women from underrepresented neighborhoods in Los Angeles as a way to affect positive social-change in their communities.
Girls' Voices Now is unlike any other anthology series out there. Here TV partnered with the Los Angeles non-profit Women's Voices Now (WVN), who gave cameras to twelve young women, ages 14 – 18, to tell their stories through their own unique lens. WVN promotes, produces, and shares social-change films that move audiences from empathy to action on women's and girls' rights issues, bridging the gap between filmmakers and agents of social change.
"Seeing the world through the eyes and experiences of these young women allows us to look at ongoing inequalities in a way we would not necessarily be able to on our own," says WVN's Executive Director, Heidi Basch-Harod. "Conversations and contemplations around these films will lead to creative and collaborative problem solving that will result in a better world, not just for women and girls, but for all of us.
Season 1 of this insightful series features three short films from the Girls' Voices Now summer youth program. Episode 1, Not Quite Here, Not Quite There, looks at how media representations of immigrants dehumanize the people they portray. Episode 2, She's Got Game, explores inequity between female and male athletes, specifically, the lack of funding provided to young female athletes in high school. And Episode 3, Onyi: The Path to Finding Me, questions the media's unrealistic standards that damage self-esteem and confidence of those who do not meet 'ideal' beauty standards.
"Here TV continues to expand its mission by highlighting intersectional, underrepresented people in our greater community," says Producer David Millbern. "Women's rights, in particular those that involve women of color, closely align with our network's ethos and beliefs."
Girls' Voices Now was produced by Women's Voices Now Executive Director, Heidi Basch-Harod, Paul Colichman and David Millbern and executive produced by Malachy Wienges, Stephen P. Jarchow and John Mongiardo. Girls' Voices Now will premiere world-wide on all Here TV platforms.
Here TV (http://www.heretv.com) launched in 2004, making it the world's first SVOD LGBTQ+ video service, and is available on all major US cable operators including Xfinity, Spectrum, Cablevision, FiOS, U-Verse, Cox, as well http://www.here.tv where it can be viewed on all iOS and Android mobile devices. Here TV reaches millions of viewers each month and has produced Academy award-winning films in addition to receiving four Daytime Emmy Award nominations.
Founded in 2010, Women's Voices Now (womensvoicesnow.org), a 501(c)(3) non-profit organization, connects filmmakers, activists, and decision makers dedicated to guaranteeing women's and girls' full access to their political, economic, and civil rights. The organization carries out its mission with a film festival, a free film archive, a youth media training program, educational community screenings, multimedia workshops, and an online publication (The WVoice). Since 2017, WVN has held special consultative status to the United Nations Economic and Social Council (ECOSOC).