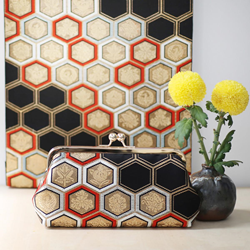 Not only do I seek 'nishijin' fabrics woven in Japanese silk, but I also look for unique cultural stories represented by the weaving and symbols within the fabrics.
(PRWEB) January 04, 2017
Heritage ReFashioned (http://shop.refashion.hk), in association with The Artisan Group®, will participate in GBK's luxury gift lounge honoring the nominees and presenters for the 2017 Golden Globes. The gift lounge takes place on January 6-7, 2017 at an exclusive location in Los Angeles, California.
The company will display with The Artisan Group its handmade kiss-lock clutch bags upcycled from vintage kimono fabrics. The clutches are handmade in Hong Kong by clutch bag designer and Heritage ReFashioned founder Vincci Ching. The fabrics selected for the clutches were discovered from antique markets in Tokyo. The purpose of the Kimono Clutches line, says Vincci, is "to give new purpose to old, forgotten and unwanted garments by turning them into beautiful and coveted accessories."
Celebrities stopping by The Artisan Group's exhibit will be gifted Heritage ReFashioned hair ties made from off-cuts of vintage kimono fabrics. "By gifting hair ties made from off-cuts of vintage kimono fabric, I want to raise awareness for sustainable design," remarked Vincci. "I want to bring back the stories behind these cultural fabrics and the impeccable craftsmanship used to weave them."
Heritage ReFashioned products aim to tell a story from centuries past. Vincci's creative process starts with treasure hunting textiles in antique markets and vintage kimono stores in Japan. Elaborating on her process, she notes, "Not only do I seek 'nishijin' fabrics woven in Japanese silk, but I also look for unique cultural stories represented by the weaving and symbols within the fabrics."
Clutch Collections available on the Heritage ReFashioned website include Flora & Fauna, Bishamon, Kikko and Nature & Seasons. Says Vincci, "For Spring/Summer 2017, nature is one of my main inspirations. Peonies, camellias and pine tree motifs will be prominently showcased."
Vincci grew up witnessing first-hand the impact of large scale garment manufacturing and this motivated her to develop her own line of green, eco-friendly accessories. Through Heritage ReFashioned she is able to show that beautiful fashion accessories can be produced with minimal impact to our environment. Most of the textiles Vincci works with are no longer wearable garments due to damage. By turning them into clutches, hair ties and more, she is re-visioning them and bringing them back to life.
Heritage ReFashioned products were styled and featured in the Fall/Winter 2016 and October 2016 issues of ELLE Hong Kong. The company received the following recognitions at the 2016 Hong Kong Smart Gifts Design Awards: Gold Award in Corporate Personal Accessory category; Green Award; Judge Awards from three judges on the panel.
This February, Heritage ReFashioned will be participating in the Frankfurt Messe Ambiente trade show in Germany. The company participated in GBK's 2016 Luxury Celebrity Lounge honoring Primetime Television in September.
Heritage ReFashioned is available online and at pop-up shows and retail locations listed here. Retailers interested in carrying Heritage ReFashioned may contact Vincci using the contact button above.
Follow Heritage ReFashioned on Facebook (@HeritageReFashioned), Instagram (@refashioned) and Twitter (@refashionhk). Read more about Heritage ReFashioned on its press page.
ABOUT HERITAGE REFASHIONED
Heritage ReFashioned (http://www.refashion.hk) is a collection of handbags and accessories made with upcycled vintage textiles from China, Japan and Southeast Asia. Giving a new life to forsaken and forgotten textiles laced with cultural heritage, the company's line of textile accessories is a pairing of colorful history with sustainable fashion.
Stories from the East are woven in the warp and weft of the fabric in this collection. With lively hand-embroidered dragons on vintage qun kwa from Southern China, traditional symbols on past century Japanese kimono cloth, to colorful weaving from Bhutan — the Kingdom of Happiness, Heritage ReFashioned knows its selections will touch the hearts of fashionistas who seek eco-friendly and sustainable fashion with a story to tell.
Heritage ReFashioned is a proud member of The Artisan Group®.
ABOUT THE ARTISAN GROUP
The Artisan Group® (http://www.theartisangroup.org) is a premier entertainment marketing group dedicated to representing small business artisans at the best celebrity gift lounges and press events. The organization provides a collective sampling of handcrafted products to celebrities and members of the press at top luxury gift lounges such as those leading up to The Academy Awards, The Golden Globes, The MTV Movie Awards and The Primetime Emmys.
The Artisan Group also coordinates product placement of its member's handcrafted products on such hit television shows as Empire, Scandal, The Voice, How To Get Away With Murder, The Vampire Diaries, Days of Our Lives, The Young & The Restless, Modern Family, Jane The Virgin and Law & Order: SVU, among others. Membership in The Artisan Group is juried and by invitation only.
For press inquiries regarding The Artisan Group, please visit theartisangroup.org or email press[at]theartisangroup.org.