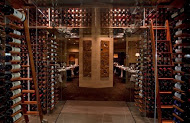 When you work with us you will truly get a custom experience.
GREENWICH, Connecticut (PRWEB) October 26, 2015
Heritage Vine, the maker of custom wine cellars, wine racks and saunas for both home and commercial use, is expanding its presence and has opened a new location in Greenwich, Connecticut. The new location will offer customers the opportunity to meet with custom wine cellar professionals to discuss their wine room design and installation needs. Serving Manhattan, New York City, The Hamptons, Fairfield County, Greenwich, Short Hills and Lower Fairfield County as well as surrounding areas, the new location will allow Heritage Vine to better serve its business and residential clientele in the Tri-State area.
"We are thrilled to open our newest location to serve New York, New Jersey and Connecticut," said Jamie Dunjey, Heritage Vine's owner. "Having the ability to work in-person with new home builders, current homeowners and restaurants seeking a custom wine cellar solution onsite provides unbeatable value for our clientele." Regan Youngburg has been selected to head up efforts in the Tri-State area, lending his design and installation expertise to the growing organization. "When you work with us you will truly get a custom experience. We believe in the personal experience, meeting with you in person to gather ideas, evaluate site conditions to design and build the cellar with your tastes and ideas in mind" states Dunjey, the reason for expanding into the area. Heritage Vine also offers custom sauna installation as part of its offerings.
The new location is open for business and is located at 219 East Putnam Avenue, Greenwich, CT 06807. Contact Regan Youngburg at 203.302.3571 ext 102 to learn more about the new facility.
About Heritage Vine
Heritage Vine provides the finest wine racks in the industry along with fully custom, climate-controlled wine rooms and far-infrared saunas for home or business, Heritage Vine excels in creating unmatched custom wine cellars for homes and commercial use.
Their expert designers can design a custom wine cellar or wine room to a client's specific vision, taking time to listen to every detail desired and craft a design accordingly. Once a custom wine cellar design has been crafted, Heritage Vine's unmatched craftsmanship and attention to detail takes over in the production and installation of a client's wine cellar. Heritage Vine provides complete wine cellar solutions for homes and businesses. For more information about Heritage Vine please visit http://heritagevine.com.
# # #
For more information, contact:
Jamie Dunjey, Owner
Heritage Vine
T: 480.347.0980