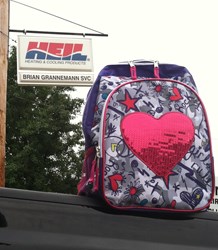 The local school district was recently blessed with a generous donation from the community.
Hermann, MO (PRWEB) August 08, 2013
The Gasconade County School District in Hermann Missouri was recently blessed with a generous donation from the entire community of residents and businesses. Each party was moved to help kids who needed the school supplies necessary to make the 2013-2014 school year a success.
Living in a small community like Hermann Missouri can be a rare treasure. Some folks will go to the ends of the earth for a neighbor. There have been stories about neighbors filling a resident's house with food after a long stay in the hospital. When the flood waters this year reached record highs, folks were in the street near the rising levels with shovels, a mound of sand, and bags to fill. This latest act of kindness in the community has surpassed previous years of support despite economic factors.
Brian Grannemann Services set to make this a record breaking year. With each new load of supplies that came into their shop, Amy Grannemann was meticulous and thorough to make sure that all supplies and cash donations were accounted for.
In 2011, the Backpack Program received 49 backpacks and $395 in cash. The next year saw the number of backpacks raise to 70 and $425 in cash. This year the community of Hermann decided to push the limits and 75 backpacks were donated and over $1,000 in cash. There were also more than three boxes full of supplies such as notebooks, folders and pencils.
Below is a list of Hermann residents and businesses that contributed to the success of this program.
ALCO, American Family Insurance, Angie Walther, Ann Althauser, Barb and Russ Gillig, Barbara Schutt, Becky Clark, Berleners, Birth Right, Brian Grannemann Services Inc., Buy the Book, Car Quest, Carol Elsennraat, Creekside Daycare, David Heaney, Dawn Jones, Donna Buesking, Eagles Aux., Ellen Schaumberg, Emmanuel Evangelical Free Church, Experience Hermann, Gasconade County Health Department, Gloria Issak, Hermann Florist, Hermann Library, Hermann Lumber, Jeff and Amanda Schaeffer, Joann Kirchoffer, Karen Millecker, Keely Uthlaut, Krystal Witthaus, Lee & Keely Pettijohn, Linda Kallmayer, Lindsey Engemann, Marilyn Wade, Marilyn Fricke, Marilyn Loehning, Mary Leeper, Mary Weston, Mike Jacquin, Missy Ellis-Bonco, Missouri Bank, People Savings Bank, Pretium Packaging, Prophete Family, Sharon Speckhals, St Paul United Church of Christ, Terry Schroer, Wings A Blazin, & Xtreme Sports