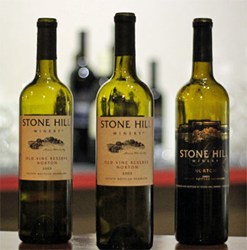 It's all about the grapes.
Hermann, MO (PRWEB) August 07, 2013
For a quarter of a century, owners of Stone Hill Winery in Hermann Missouri, Jim and Betty Held, have shown off their Norton red wine each year since 1988This wine is considered a more classic or "artistic" style compared to the so-called "Missouri Style" wine.
Dave Johnson, Stone Hill's senior wine maker for the past 30 years and the man behind their award winning Norton, is responsible for putting their yearly vintages in a category of their own. In fact, Johnson approached Jim Held about doing a ten-year vertical tasting.
Dave is especially proud of this year's vertical tasting because it means they've been making a Norton capable of aging for 10 years, for 35 years. "That's a unique situation for many wineries, let alone a Missouri winery," he says.
So, what makes the Norton wines so popular? It's all about the grapes.
The Norton grape is a true Native American grape and the official state grape of Missouri. What separates it from other grapes is its evolution under Midwestern continental growing conditions, making it perfectly suited for our long, warm summers and cold winters.
Saturday evening began with a Hors D' Oeuvres and a sparkling wine reception, featuring Stone Hill Winery's 2008 Blanc de Blancs and Brut Rose´; my favorite was the Blanc de Blancs, although QuickNewsNow's Kaylin Bade is a big fan of the Brut Rose´.
After entering the pavilion; white crisp cloths covered each table and at each seat were 10 special Norton Glasses (a glass that is slightly torpedo shaped, designed by the crystal maker Riedel), each containing a Norton vintage from 2003 to 2012.
I was amazed at the progression in color from the youngest to the oldest Norton. "Notice how purple the 2012 is, looking at one in the middle it's more of a ruby color, the oldest has a brick red color to it…natural polarization of the compounds that causes the slow progression of change from one year to the next," Johnson explained.
Events lasting a quarter of a century all have those little unknown secrets and are the foundation in which annual events are formed upon; the reason Stone Hill's Norton tasting is like none other.
Before the testing, Dave Johnson announced "beginning tonight our 2003, 2005, and 2006 Old Vine Reserve Norton will be available for purchase for the first time since 1989."
Old Vine Reserve Norton is unique in that the grapes come from a quarter acre vineyard Jim Held purchased in the early 1970's. This small vineyard was planted during the Civil War, over a century and half ago. These "tired old men" as Held referred to them; take numerous years to produce enough grapes before they can make a barrel of the Old Vine Reserve.
Since Stone Hill started their 10-year vertical tasting as one of the finest Hermann, MO wineries, only one other gentleman besides Dave has attended each one. This distinctive individual is Glenn Bardgett, CS, CSW wine director for the well renowned restaurant, Annie Gunn's in Chesterfield, Mo. and columnist for Sauce Magazine.
Bardgett said, "Watching these wines develop over a 10 year period and watching the color changes and aromas change over a 10 year period is extraordinary."
Bardgett has over 900 wines on his wine list, "I don't know any other winery in the United States that does this kind of thing. Wineries will do vertical tastings, but for them to do year after year, vertical events for consumers are unheard of."
"Typically vertical tastings are held for vendors of buyers, but Jim and Betty Held want their consumers to love their wines…the whole event itself…the sparkling wine in the cellars and dinner afterwards…this is a huge deal and a huge program that I have never heard anybody doing in the United States."