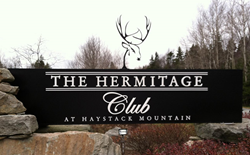 You Belong Here
Wilmington VT (PRWEB) November 14, 2014
On Thursday November 13, the founder and president of the Hermitage Club addressed the Executive Association of New York City at the Harvard Club on the remarkable journey that took him from being a garbage man, to a facility maintenance guy, to currently the owner of the only private ski resort in the Northeast – Creating one disruptive business model after another. Jim serves on the Board of Directors and is a trustee of the Connecticut Science Center, Marist College, the Watch Hill Conservancy, and is a former director of Riverfront Recapture.
Mr. Barnes established the largest waste management company in America without owning a truck using an asset light business model and aggregating large national customers such as Wal-Mart, McDonald's, and Macy's. He built the company with a humble $40k loan to a business with annual revenues of $700M before exiting in a sale to his arch rival Waste Management. Currently Mr. Barnes is shaking up the ski-resort industry by disrupting the daily ticket sales model and launching a members only environment where unhurried, un-crowded and uncompromising are not only the key sales points, but also a way of member life.
The Hermitage Club's Jim Barnes detailed a roller coaster ride on his third and most invested company that has not only transformed an almost barren mountain into the Hermitage Club, but also transformed southern Vermont's Deerfield Valley (the towns of Wilmington and West Dover with an investment of $55M over the last 20 months, resurrecting the resort community devastated by hurricane Irene in 2011.
About the Hermitage Club
The Hermitage Club at Haystack Mountain is a 1,400-acre enclave in the Deerfield Valley of Southern Vermont. The Club, located in the towns of West Dover and Wilmington, VT, provides members with four seasons of private mountain activities, luxury real estate, and a worry free, safe environment for families of all generations. The exclusive private club community provides real estate opportunities like none other, celebrates the outdoors and family fun, with activities ranging from Alpine skiing and boarding to cross country skiing and snowshoeing. The Club has also recently added a variety of summer water and mountain adventure activities including hiking, swimming and kayaking in addition to golfing at its 18-hole championship golf course. The Hermitage Club is the fastest growing company in Vermont and was recently named to Inc. Magazine's Inc. 5000 list of fastest growing private companies in the United States.