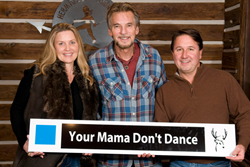 The new 80,000 square foot clubhouse is one of the largest and most luxurious in North America.
Wilmington, VT (PRWEB) December 19, 2014
The Hermitage Club at Haystack Mountain, a full-service private ski club in Southern Vermont's Deerfield Valley, announced today that it has unveiled its latest new trail names inspired by classic rock songs.
Three time Grammy Award Winner Kenny Loggins kicked off the weekend with a private concert followed by a trail naming ceremony. Hermitage Club Founder, President Jim Barnes said, "The new trail names include: "I'm Alright" the theme song for the movie soundtrack to Caddyshack, "Footloose", "Your Momma Don't Dance", and "Danger Zone" the title track to the motion picture Top Gun."
Barnes added, "It's our vision to rename our existing 48 trails after significant rock songs." Previously named trails include "Whipping Post" by the Allman Brothers, "One of Us" by Joan Osborne, "Life in the Fast Lane" by the Eagles, and "Smooth" by Rob Thomas.
The new 80,000 square foot clubhouse is one of the largest and most luxurious in North America. The lodge includes multiple dining options, a full fitness area, spa, children's center, bowling alley, 45-seat movie theater, GoPro editing suites and a retail store. "We offer a wide range of amenities fit for everyone in the family and we're thrilled to announce that opening day is right around the corner," said Dale Ribaudo, Vice President of Sales and Member Services at The Hermitage Club. "Membership is booming right now, and we're looking forward to offering our members exclusive and exciting events all year round."
About The Hermitage Club
The Hermitage Club at Haystack Mountain is a 1,400-acre enclave in the Deerfield Valley of Southern Vermont. The Club, located in the towns of West Dover and Wilmington, VT, provides members with four seasons of private mountain activities, luxury accommodations and a worry free, safe environment for families of all generations. The exclusive private club community celebrates the outdoors and family fun, with activities ranging from alpine skiing and boarding to cross country skiing and snowshoeing. The Club has also recently added a variety of summer water and mountain adventure activities including hiking, swimming and kayaking in addition to golfing at its 18-hole championship golf course. The new clubhouse, combined with the residential construction taking place at The Club, qualifies as the largest real estate construction project in southern Vermont. The Hermitage Club is the fastest growing company in Vermont and was recently named to Inc. Magazine's Inc. 5000 list of fastest growing private companies in the United States.