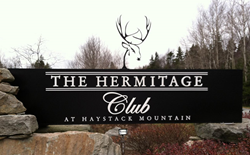 You belong here
Wilmington VT (PRWEB) September 16, 2014
The Hermitage Club a full-service private four season resort in Southern Vermont's Deerfield Valley recently welcomed their 350th member into the Club. The Club has grown exponentially over the three years since Jim Barnes, Founder and President of The Hermitage Club at Haystack Mountain, took ownership. The increasing rate of membership growth is primarily due to the existing members sharing their experiences and inviting their friends and colleagues to enjoy the ever expanding amenities of the private club, said Barnes. "We are pleased by the pace of new members joining the Club, and we are looking forward to the opening of the new member clubhouse this fall".
"Many of our new members are drawn to the Deerfield Valley by the real estate offerings at The Hermitage Club," said Dale Ribaudo, vice president of The Hermitage Club. "Homes at The Hermitage and luxury townhomes are consistently being presold before construction actually begins. The trailside location, spacious layout and fine level of finishes are unmatched in all of Southern Vermont, and members living on property have easy access to the Club as well as luxury living."
To celebrate the nearing completion of their member clubhouse The Hermitage Club is planning a weekend of Open House activities and events for their members and guests on Columbus Day Weekend (October 10th – 13th), including hard hat tours and musical entertainment. The official Grand Opening event will take place for members and guests in mid-December 2014.
About The Hermitage Club
The Hermitage Club at Haystack Mountain is a 1,400-acre enclave in the Deerfield Valley of Southern Vermont. The Club, located in the towns of West Dover and Wilmington, VT, provides members with four seasons of private mountain activities, luxury accommodations, and a worry free, safe environment for families of all generations. The Hermitage Club is also building one of the largest base lodge clubhouses in the United States. This 80,000 square foot facility will include multiple dining options, lockers for all its members, an extensive fitness facility, lap pool, movie theater, 14 spa treatment rooms and much more. When combined with the residential construction taking place at the Club, this qualifies as the largest real estate construction project in southern Vermont. For more information please visit http://www.hermitageclub.com.