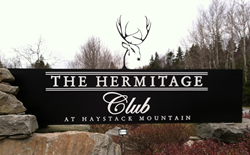 You Belong Here
Wilmington VT (PRWEB) November 17, 2014
The Hermitage Club at Haystack Mountain, a full-service private ski club in Southern Vermont's Deerfield Valley, announced today that its charitable donations have surpassed $200,000 raised in 2014. The Club expects that number to rise as they have donated to more than 30 auctions still to be held this year.
"We believe strongly in giving back," said Jim Barnes, founder and president of The Hermitage Club. "Whether that is through creating jobs and contributing to the economies in Deerfield Valley, Vermont or making donations to charities in the markets we serve, helping our communities is part of The Hermitage Club's core mission."
Since 2013, The Hermitage Club has donated guest memberships, ski and stay packages, and golf rounds for auctions at charitable functions throughout Vermont, New Hampshire, Connecticut, New York, Rhode Island and Massachusetts. Some of the charities served include: The Hole in the Wall Gang, Make A Wish, The Boy Scouts, Ronald McDonald House, Big Brothers Big Sisters and Voices of September 11.
The Club recently announced that membership had exceeded 350 families.
"The experience we offer to our members is unprecedented," said Dale Ribaudo, Senior Vice President of Sales and Member Services at The Hermitage Club. "With no lift lines, perfect ski conditions and the brand-new Clubhouse, we're changing the face of East Coast skiing. We've had a lot of success, and we want to give back."
About The Hermitage Club
The Hermitage Club at Haystack Mountain is a 1,400-acre enclave in the Deerfield Valley of Southern Vermont. The Club, located in the towns of West Dover and Wilmington, VT, provides members with four seasons of private mountain activities, luxury accommodations and a worry free, safe environment for families of all generations. The exclusive private club community celebrates the outdoors and family fun, with activities ranging from alpine skiing and boarding to cross country skiing and snowshoeing. The Club has also recently added a variety of summer water and mountain adventure activities including hiking, swimming and kayaking in addition to golfing at its 18-hole championship golf course. The Club will open a new 80,000 square foot Clubhouse during the weekend of December 12-13, 2014. The facility includes multiple dining options, a full fitness area, spa, children's center, bowling alley, 45-seat movie theater, GoPro editing suites and a retail store. The new clubhouse, combined with the residential construction taking place at The Club, qualifies as the largest real estate construction project in southern Vermont and has attracted the interest of those interested in Vermont ski resort real estate. The Hermitage Club is the fastest growing company in Vermont and was recently named to Inc. Magazine's Inc. 5000 list of fastest growing private companies in the United States.