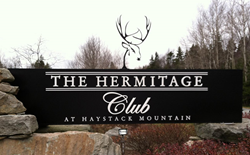 You belong here
Wilmington VT (PRWEB) October 08, 2014
The Hermitage Club at Haystack Mountain, a full-service private ski club in Southern Vermont's Deerfield Valley, will open their brand new 80,000 square foot Clubhouse over Columbus Day weekend (October 10-12, 2014). The Clubhouse is believed to be the largest and most comprehensive member facility in North America. It includes multiple dining options, full fitness and spa opportunities, a children's' center with bowling and a 45-seat movie theater, a nursery, three locker rooms and a retail store. The Clubhouse is connected to the mountain via a 38-foot wide ski bridge, the largest in America.
The Opening Weekend celebration will include musical entertainment and activities for all ages. Members and their guests can enjoy scenic boat rides on Lake Whitingham, mountain biking, nature hikes, fly fishing (including clinics), horse-drawn carriage rides, and much more.
About The Hermitage Club
The Hermitage Club at Haystack Mountain is a 1,400-acre enclave in the Deerfield Valley of Southern Vermont. The Club, located in the towns of West Dover and Wilmington, VT, provides members with four seasons of private mountain activities, luxury accommodations, and a worry free, safe environment for families of all generations. The exclusive private club community celebrates the outdoors and family fun, with activities ranging from Alpine skiing and boarding to cross country skiing and snowshoeing. The Club has also recently added a variety of summer water and mountain adventure activities including hiking, swimming and kayaking in addition to golfing at its 18-hole championship golf course. The new Clubhouse, combined with the residential construction taking place at the Club, qualifies as the largest real estate construction project in southern Vermont. The Hermitage Club is the fastest growing company in Vermont and was recently named to Inc. Magazine's Inc. 5000 list of fastest growing private companies in the United States.