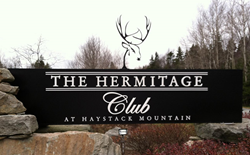 You belong here
Wilmington VT (PRWEB) September 25, 2014
The Hermitage Club at Haystack Mountain, a full-service private ski club in Southern Vermont's Deerfield Valley has been ranked No. 794 on Inc. Magazine's annual list of the fastest-growing private companies. The Inc. 5000 represents the most comprehensive look a crucial segment of the economy – America's independent entrepreneurs.
This is The Hermitage Club's first appearance on the Inc. 5000. The Club has grown exponentially in the three years since Jim Barnes, Founder and President of The Hermitage Club, took ownership. 2013 Revenue was up 575% percent over the past three years (the average growth for the companies on the list was 516%). The Hermitage Club, located in Wilmington and Dover, VT was the #1 company in Vermont and the #8 travel and hospitality company.
"We're excited to announce our inclusion as #794 in this year's Inc. 5000 featuring the fastest growing companies in the US." Barnes said. "This is the 11th time that a company I have led has made it to the list and I'm certain with the numbers we're showing in sales this year we will be climbing up on the list again next year! Thank you to all of our team members who make this sustained growth possible for the Club."
The exclusive, four-season private club community celebrates the outdoors and family fun, with private mountain activities ranging from Alpine skiing and boarding to cross country skiing and snowshoeing. The Club has also recently added a variety of summer water and mountain adventure activities including hiking, swimming and kayaking in addition to golfing at its 18-hole championship golf course.
Complete results of the Inc. 5000, including company profiles and an interactive database that can be sorted by industry, region, and other criteria, can be found at http://www.inc.com/5000.
About The Hermitage Club
The Hermitage Club at Haystack Mountain is a 1,400-acre enclave in the Deerfield Valley of Southern Vermont. The Club, located in the towns of West Dover and Wilmington, VT, provides members with four seasons of private mountain activities, luxury accommodations, and a worry free, safe environment for families of all generations. The Hermitage Club is also building one of the largest base lodge clubhouses in the United States. This 80,000 square foot facility will include multiple dining options, lockers for all its members, an extensive fitness facility, lap pool, movie theater, 14 spa treatment rooms and much more. When combined with the residential construction taking place at the Club, this qualifies as the largest real estate construction project in southern Vermont. To celebrate the nearing completion of their member clubhouse The Hermitage Club is planning a weekend of Open House activities and events for their members and guests on Columbus Day Weekend (October 10th – 13th), including hard hat tours and musical entertainment. The official Grand Opening event will take place for members and guests in mid-December 2014.