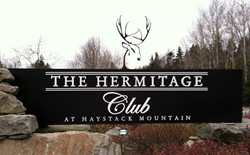 You Belong Here
Wilmington VT (PRWEB) October 01, 2014
The Hermitage Club at Haystack Mountain, a full-service private ski club in Southern Vermont's Deerfield Valley announced a new membership promotion to the exclusive four season private community. Until October 12, 2014, a limited number of short term guest memberships are being offered to families who want to experience a relaxed lifestyle and recreational environment in a private club environment. These memberships provide access to The Hermitage Club through February 15, 2015.
Guest members will be able to convert to a full membership in The Hermitage Club once they have had an opportunity to experience all the benefits of western style skiing at the largest private ski mountain in the east. The Hermitage Club offers an attractive range of full membership options to fit a variety of individual lifestyles. In addition, extensive real estate options are available, from spacious private residences to luxury town homes.
The Club recently announced that it had surpassed 350 members. "The Hermitage Club offers a very unique opportunity for people to experience skiing and other family activities in a special environment," said Dale Ribaudo, Vice President of The Hermitage Club. "We've got a lot of momentum right now, and we want to keep that going with this new Guest Membership.
Besides a traditional Vermont Inn and 4 Star gourmet restaurant, The Hermitage Club features a brand-new,dramatic mountain Clubhouse which is the ultimate in slope-side sophistication. According to Jim Barnes, founder and president of The Hermitage Club, the new clubhouse is "a jewel of unique elegance and style. The meticulously designed 80,000 square-foot lodge will feature amenities designed to meet the most discerning of tastes, and the needs of guests of all ages, including gourmet dining, a fitness center, a spa, day care, a ski valet, a movie theater, a pool, bowling and much more. It's an inviting place where members and their families will be able to unwind in the essence of luxury while surrounded by beautiful mountain vistas."
To celebrate the completion of their member clubhouse The Hermitage Club is planning a weekend of Open House activities and events for their members and guests on Columbus Day Weekend (October 10th – 13th), including hard hat tours and musical entertainment. The official Grand Opening event will take place for members and guests in mid-December 2014
About The Hermitage Club
The Hermitage Club at Haystack Mountain is a 1,400-acre enclave in the Deerfield Valley of Southern Vermont. The Club, located in the towns of West Dover and Wilmington, VT, provides members with four seasons of private mountain activities, luxury accommodations, and a worry free, safe environment for families of all generations. The exclusive private club community celebrates the outdoors and family fun, with activities ranging from Alpine skiing and boarding to cross country skiing and snowshoeing. The Club has also recently added a variety of summer water and mountain adventure activities including hiking, swimming and kayaking in addition to golfing at its 18-hole championship golf course. The new Clubhouse, combined with the residential construction taking place at the Club, qualifies as the largest real estate construction project in southern Vermont. The Hermitage Club is the fastest growing company in Vermont and was recently named to Inc. Magazine's Inc. 5000 list of fastest growing private companies in the United States.