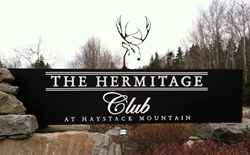 You Belong Here
Wilmington VT (PRWEB) October 20, 2014
The Hermitage Club at Haystack Mountain, a full-service private ski club in Southern Vermont's Deerfield Valley, prepares for the opening of ski season with a private concert by Rob Thomas for members, their guests and local dignitaries. Thomas, best known for his hits with the band Matchbox Twenty and collaborations with Carlos Santana, wowed the crowd of 1,000 people during his 2 hour set over Columbus Day weekend. During the concert, Thomas performed "3AM" and "Someday." He has sold more than 80 million albums worldwide. Thomas also had a trail at Haystack Mountain named after one of his hit songs, "Smooth."
"We are looking forward to many evenings like this in the years to come," said Jim Barnes, founder and President of The Hermitage Club. "In addition to a great ski experience highlighted by virtually no lift lines, safety and fresh tracks all day long, our members and their guests are now able to enjoy a world class clubhouse with amenities not found at any other ski mountain on the East Coast."
The new, 80,000 square clubhouse will open fully the second week of December. It has been under construction for more than two years. Amenities include multiple dining options, a full fitness area, spa, children's center, bowling alley, 45-seat movie theatre and a retail store.
Other activities over the holiday weekend included boat rides on Lake Whitingham, mountain biking, nature hikes, fly fishing clinics and horse-drawn carriage rides.
About The Hermitage Club
The Hermitage Club at Haystack Mountain is a 1,400-acre enclave in the Deerfield Valley of Southern Vermont. The Club, located in the towns of West Dover and Wilmington, VT, provides members with four seasons of private mountain activities, luxury accommodations and a worry free, safe environment for families of all generations. The exclusive private club community celebrates the outdoors and family fun, with activities ranging from alpine skiing and boarding to cross country skiing and snowshoeing. The Club has also recently added a variety of summer water and mountain adventure activities including hiking, swimming and kayaking in addition to golfing at its 18-hole championship golf course. The new clubhouse, combined with the residential construction taking place at The Club, qualifies as the largest real estate construction project in southern Vermont. The Hermitage Club is the fastest growing company in Vermont and was recently named to Inc. Magazine's Inc. 5000 list of fastest growing private companies in the United States.