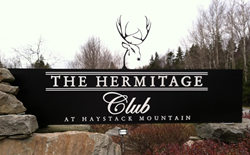 We are honored to be selected for the second group of clubs to go thru the certification process
Wilmington, VT (PRWEB) December 08, 2014
The Hermitage Club at Haystack Mountain, a full-service private ski club in Southern Vermont's Deerfield Valley, announced today that it has been selected by the United States Ski and Snowboard Association, the national governing body of the United States Olympic skiing and snowboarding teams, to participate in their club certification process.
The USSA ski club certification program places the Hermitage Club into a select company of the top ski and snowboard clubs around the United States, a significant achievement for a private ski club going into its second year of operations. The USSA club certification program was developed to facilitate participation in national and international competition; the Olympic sports organization provides structure for competitive skiing and snowboarding. From grassroots programs to governance of sport, management of rules, competitions and athletic rankings, the USSA oversees athletic pipelines for development in the sports.
According to James Lazor, Director of Snowsports and Alpine Racing at the Hermitage Club, "We are honored to be selected for the second group of clubs to go thru the certification process. Our target of bronze is due to the fact that we are a 'new' club with brand new programs. In our group this season are clubs such as: Aspen Valley Ski, Snowboard and Sugar Bowl Academy to name a few."
About The Hermitage Club:
The Hermitage Club at Haystack Mountain is a 1,400-acre enclave in the Deerfield Valley of Southern Vermont. The Club, located in the towns of West Dover and Wilmington, VT, provides members with four seasons of private mountain activities, luxury accommodations and a worry free, safe environment for families of all generations. The exclusive private club community celebrates the outdoors and family fun, with activities ranging from alpine skiing and boarding to cross country skiing and snowshoeing. The Club has also recently added a variety of summer water and mountain adventure activities including hiking, swimming and kayaking in addition to golfing at its 18-hole championship golf course. The Club will open a new 80,000 square foot Clubhouse during the weekend of December 12-13, 2014. The facility includes multiple dining options, a full fitness area, spa, children's center, bowling alley, 45-seat movie theatre, GoPro editing suites and a retail store. The new clubhouse, combined with the residential construction taking place at The Club, qualifies as the largest real estate construction project in southern Vermont and has attracted the interest of those interested in Vermont ski resort real estate. The Hermitage Club is the fastest growing company in Vermont and was recently named to Inc. Magazine's Inc. 5000 list of fastest growing private companies in the United States.