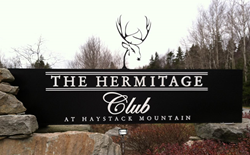 Wilmington, VT (PRWEB) February 27, 2015
The Hermitage has responded to a Vermont Natural Resources approved mitigation plan for alleged violations that date back to 2012. The mitigation work that was approved by the department was completed as soon as it was approved in the summer of 2013.
"Although the Hermitage didn't agree with the allegations we agreed to 100% mitigation at our expense," said Jim Barnes, President, Hermitage Inn Real Estate Holding Company.
Barnes further added, "we were surprised and disappointed when the State took further action to seek fines in addition to the mitigation plan. We further couldn't understand the basis underpinning the penalties provided. The Hermitage continued further dialogue and although disagreeing with the penalties proposed, offered a thoughtful proposal to settle this issue which was since not accepted. The Hermitage continues in its plan to meet with State officials to try to arrive at a workable agreement."
"We at The Hermitage are disappointed that the Vermont Attorney General's office and the Vermont Natural Resources Board have found it necessary to pursue this matter in court rather than working with us to find a solution. We intend to continue to work with the State of Vermont in an effort to resolve these issues without the need for further litigation. However, if we are unable to reach a resolution that addresses the State's concerns while allowing us to continue to develop and operate our property in an environmentally responsible and reasonable manner, we will vigorously defend ourselves against the State's claims," said Barnes.
About The Hermitage Club
The Hermitage Club at Haystack Mountain is a 1,400-acre enclave in the Deerfield Valley of Southern Vermont. The Club, located in the towns of West Dover and Wilmington, VT, provides members with four seasons of private mountain activities, luxury accommodations and a worry free, safe environment for families of all generations. The exclusive private club community celebrates the outdoors and family fun, with activities ranging from alpine skiing and boarding to cross country skiing and snowshoeing. The Club has also recently added a variety of summer water and mountain adventure activities including hiking, swimming and kayaking in addition to golfing at its 18-hole championship golf course. The Club opened a new 80,000 square foot Clubhouse in December 2014. The facility includes multiple dining options, a full fitness area, spa, children's center, bowling alley, 45-seat movie theatre, GoPro editing suites and a retail store. The new clubhouse, combined with the residential construction taking place at The Club, qualifies as the largest real estate construction project in southern Vermont and has attracted the interest of those interested in Vermont ski resort real estate. The Hermitage Club is the fastest growing company in Vermont and was recently named to Inc. Magazine's Inc. 5000 list of fastest growing private companies in the United States.