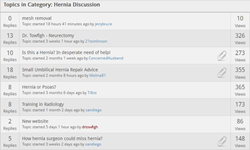 Dr. Towfigh explains that patients enjoy using Hernia Talk to get information both before and after their hernia procedure.
Los Angeles, CA (PRWEB) October 16, 2015
According to an article published September 29th on Health Day, new data has shown that patients who have received routine surgeries often prefer to receive needed follow-up information online, rather than via an in-person visit. By following 50 patients who received a mixed group of surgical procedures including hernia surgery and gallbladder removal, researchers found that more than three quarters of those patients felt that an online follow-up was sufficient, with many of those patients noting that it was actually preferred. According to Dr. Shirin Towfigh, the head surgeon and founder of Beverly Hills Hernia Center, this study is illustrative of the importance of connecting with patients in whatever way is most comfortable to them. Dr. Towfigh explains that the need to provide information in a patient-friendly format was behind her development of HerniaTalk.com, a free and open online forum that allows patients to ask questions and discuss treatment options with Dr. Towfigh and other qualified physicians. Dr. Towfigh explains that patients enjoy using Hernia Talk to get information both before and after their hernia procedure:

Before a Procedure – As the Western United States only surgeon specializing on the treatment of abdominal wall hernias, Dr. Towfigh explains that many patients who may not actually end up seeking care from her nevertheless value her diagnostic knowledge. She notes that a great deal of the conversation on HerniaTalk.com is comprised of patients describing symptoms or conditions that may fall outside the traditional picture of a hernia patient. She says that the internet allows patients who may not have access to local hernia experts to get the information that they need to pursue necessary treatment.
After a Procedure – Dr. Towfigh explains that it is very important that, during the recovery time after a hernia repair surgery, patients have reliable access to their surgeon in case they have any questions or need to inquire about possible complications. While many patients of Beverly Hills Hernia Center certainly come in for in-person follow-up appointments, others with non-urgent needs often prefer to communicate online, where they can easily take time to write out and articulate their experiences. The other benefit of HerniaTalk.com, Dr. Towfigh explains, is that all of the previous discussion threads create a backlog of knowledge that patients can search through for a wealth of information that may often answer their questions immediately, and at any time of day.
Patients who suspect they have a hernia, or have questions about a previous hernia repair procedure or treatment regimen can visit HerniaTalk.com to engage with other hernia patients and doctors today. Patients who prefer a more traditional conversation can also call the Hernia Center at 310-358-5020 to set up an in-person consultation.