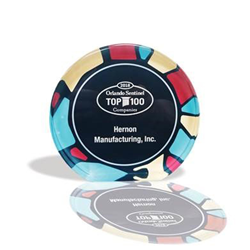 double digit sales growth for five consecutive years
SANFORD, Fla. (PRWEB) August 21, 2018
Hernon Manufacturing Inc.®, innovator of high performance sealants, adhesives and associated dispensing and curing equipment, was recently granted a coveted spot on the Orlando Sentinel's list of the Top 100 best workplaces in Central Florida. The Orlando Sentinel's Top 100 program recognizes companies throughout Central Florida that are committed to making their company a great place to work. Organizations across Central Florida entered the two-part survey process, which included evaluation of company practices and demographics, as well as input from employees via survey. Hernon Manufacturing also was measured on workplace flexibility, company leadership, career opportunities, community service, compensation and benefits.
For more than 20 years, Orlando Sentinel's Top 100 program has recognized companies across Central Florida that are committed to workplace satisfaction. The program acknowledges employers within three categories (15-99, 100-499 and 500 employees and above) to ensure organizations of all sizes are represented.
Hernon Manufacturing, Inc.® exports high-performance adhesives, sealants and coatings as well as precision dispensing equipment and UV curing systems throughout the globe. The company has returned double digit sales growth for five consecutive years including a 47% increase in revenue for the 2016-2017 business cycle. Hernon Manufacturing, Inc.® is a longtime member of Central Florida's industrial manufacturing community and is celebrating its 40th anniversary in 2018. Hernon Manufacturing provides solutions for a variety of industries including: Energy and Power Generation, Medical, Electronics, Electrical, LED, Automotive, Appliances, Sporting Goods, Ammunition, Communications, Aerospace, Aviation, High Tech Audio, Defense, Fire Suppression, Transportation, Marine Manufacturing and more, with products proudly made in the United States.