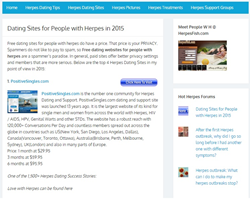 (PRWEB) March 26, 2015
Positive Singles is excited to announce the launch of HerpesSupportForum.com, a much-needed support forum for Herpes and HPV suffers.
Positive Singles believes this support forum will greatly help people who are Herpes and HPV positive in meeting the challenges they face on a day-to-day basis. With peer-to-peer interaction, HerpesSupportForum will be a non-judgmental, online community where advice, treatment tips and general support will be shared openly. It will also provide recommendations as to where to connect with other Herpes and HPV positive singles, as well as where to go to find diagnosis, treatment, and one on one counseling and support for anyone who needs it.
The forum will keep all member information private, and never send members unsolicited advertisements or promotional emails.
Positive Singles staff and management have a unique perspective when it comes to understanding the wants and needs of people with Herpes and HPV. Some of them are Herpes and HPV positive too. Thus everyone at HerpesSupportForum appreciates the challenges forum users confronted with because they have to meet those same challenges too. Who better to offer an online herpes support forum, be trusted to keep personal information confidential, and give advice and recommendations than someone in the same situation?