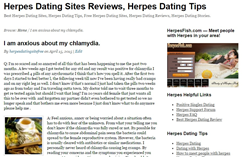 (PRWEB) April 30, 2015
Interacting with the media, a representative of the website said, "Although our website was not bad earlier, we decided to give it a complete makeover so that users find it more helpful. We are aware that any topic related to sexually transmitted infections is considered very sensitive. In addition, looking at the kind of ignorance among people, it is essential that we provide more information in order to clear any misconceptions."
HerpesDatingSiteFree.com now features a lot of information pertaining to herpes as well as other sexually transmitted infections. Besides, the team behind the site has also managed to include data on herpes support and care centers in some of the biggest cities in the United States.
Apart from this, the website also encompasses comprehensive reviews of some of the best herpes dating sites on the market. Leading dating expert James Suarez said, "Looking at the increasing number of people being infected with sexually transmitted infections, it has become important that someone takes the lead and make people aware of ways of dealing it. It is also essential that people get over the stigma and lead a normal life. HerpesDatingSiteFree.com has been doing an amazing job."
The website also manages to provide answers to some of the most frequently asked questions pertaining to herpes. Furthermore, it includes a lot of informative articles that have been written by industry experts on this subject. It remains to be seen how the revamped version of this site is perceived by the audience.