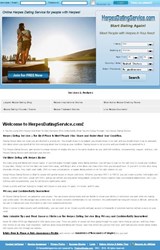 HepresDatingService.com
Ontario, Canada (PRWEB) November 15, 2013
According to a company spokesperson, HerpesDatingService is not just a Herpes dating site, but a whole lot more. More than just a dating site, HerpesDatingservice offers helpful information such as STD medical treatments and information for various STDs. Creating a profile on this STD dating site gives members access to the widest herpes blogs in the world. They can listen and share real inspiring stories with each other. This is their chance to meet people with Herpes in from any religions in Canada, United Kingdom and United States.
With the gold membership, the members are free to use the service "Live Dating Advisor " to seek professional advice, and ask questions they would never ask anyone in person. This service is completely anonymous and confidential. There are two options for this service: Option 1: By live chat. Live Dating Advisor is available ( Mon-Thu 6:00 PM-8:30 PM EST.) Option 2: By email (Anytime you want. You will get the feedback within 24 working hours.)
Live Dating Advisor makes HerpesDatingService.com is the first STD dating site on the planet that offer such feature.
Member Testimonials indicate a site loyalty seldom seen on dating sites. It is easy to see why site members feel a renewed sense of self-confidence, as they navigate around this user-friendly website. In fact, there are over 1,400 posts of Success Stories, which is a real testament to the worth of HerpesDatingService.com.
For complete details, please visit: HerpesDatingService.com