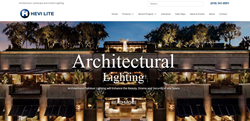 "GoMarketing Inc. is very excited to be working with one of the finest Architectural Lighting Manufacturers in the USA!"- Richard Uzelac, CEO of GoMarketing Inc.
THOUSAND OAKS, Calif. (PRWEB) June 08, 2020
"GoMarketing specializes in marketing several key business types online. One of our areas of expertise, is working with manufacturing companies. Over the past twelve years GoMarketing, has worked with manufacturing companies in the clothing, defense, sporting goods, hair care, furniture, lighting, aeronautics, pharmaceuticals, supplements, and industrial manufacturing industries," said Richard Uzelac, CEO of GoMarketing Inc.
GoMarketing is a leading digital agency specializing in online marketing, Google advertising, web design and development, App and Software development, reputation management, and other valuable business promotion services.
"We are proud to be working with such a fine company as Hevi Lite Inc. Their lighting creations are both extremely well designed and built of exceptionally fine materials. It's also an honor to be working with a company that builds their products here in the USA," Richard Uzelac stated.
HeviLite is a leader in high quality, built in the USA, Architectural, Landscape and outdoor lighting fixtures and systems.
Hevi Lite offers the finest lighting fixtures, including:

Pendant Lights
Accent Lights
Flood Lights
In-Grade Up Lights
Sign & Posts Lights
Step Lights
Wall & Surface Lights
Path & Area Lights
Special Application Lights
Retrofit Compatible Fixtures
Power Supplies
Lighting Accessories
Hevi Lite lighting products are created and milled out of solid aluminum, brass and stainless billets. Each light is designed to beautifully stand on its own. The weight and detail of each artistic feature lets clients know their products are both timeless and made to stand the test of time.
"We have designed, built and launched the new Hevi Lite site. We are very proud of the work and how it has been accepted by both the client and their visitors.
Our next step was to begin creating helpful informative content for the site. We are now building the online marketing profile for Hevi Lite Inc. through content marketing, blog writing, SEO code modifications, link building programs, mobile optimization, and ADA Compliance.
As the project progress, we look to add new project and product images and case studies that can benefit Architects and Designers needing quality products for their projects, said Richard Uzelac, CEO of GoMarketing.com.
About GoMarketing:
Richard Uzelac Founder and CEO of GoMarketing. Mr. Uzelac started RealtyTech Inc in 2002 and GoMarketing Inc in 2010.
Richard Uzelac's GoMarketing works with Corporations and Small Businesses to generate online exposure, branding and sales for both E-Commerce and Traditional companies. Uzelac has worked with many companies in many industries including; Home Services Companies (HVAC,Plumbing, Windows, Doors, Flooring, etc), Medical/Health, Manufacturing, Retail, Legal, Financial, Real Estate, Insurance, Travel and many others.
Richard's expertise is in understanding what his Clients need and providing the best possible solution for those needs, month in and month out.
"My motto when we started is still in effect. We aim to:
Understand: "When people talk, listen completely. Most people never listen." ― Ernest Hemingway
Who are you and your company? What do you do? Where do you seek change? What are your Goals?
Engage: "There is no development physically, intellectually, or financially without effort, and effort means work." – Calvin Coolidge
Once we know what you want and need, we go to work! We engage our entire arsenal of Marketing programs to meet and exceed your goals.
Succeed: "People with goals succeed because they know where they're going." – Earl Nightingale
If you don't succeed, we don't succeed! As partners we go to war to meet you success metrics.
Grow: "Strength and growth come only through continuous effort and struggle." – Napoleon Hill
There is only one finish line in life and we all know what that is. So while we are in it, we are in it to not only succeed, but to grow, constantly.
"A little bio can't tell the whole story, but the key is I will work hard for your success and am confident that whatever business consulting you need, I will be able to create a successful outcome for you and your company," Richard Uzelac said.
Mr. Richard Uzelac is also available as a Marketing and Technology Speaker, Seminar Provider and Business Consultant. For more information, contact Richard Uzelac at 805.413.7893.