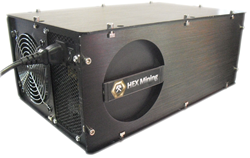 HEX Mining receives its FCC Verification of Conformity.
Orange County, CA (PRWEB) February 20, 2014
HEX Mining (http://www.hexmining.com) officially launches its new line of Avalon ASIC Bitcoin Miners to the cryptocurrency industry. The news surrounding the digital currency has provided additional support to the Bitcoin Industry. Bitcoin uses peer-to-peer technology to operate with no central authority or banks; managing transactions and the issuing of bitcoins is carried out collectively by the network. Bitcoin is open-source; its design is public, nobody owns or controls Bitcoin and everyone can take part.
The excitement & commitment to Bitcoin's success is prevalent, as many successful companies begin to accept the crytocurrency; such as the first major electronics retailer; TigerDirect, Overstock.com, the San Francisco-based social gamer maker; Zynga, Las Vegas' D casino & Golden Gate for rooms, food and drinks and the Sacramento Kings; as the first professional sports franchise to accept Bitcoin virtual currency.
Bitcoin Mining is the process of using special software to solve math problems and then are issued a certain number of bitcoins in exchange. This provides a smart way to issue the currency and also creates an incentive for more people to mine. Bitcoin miners help keep the Bitcoin network secure by approving transactions Mining is an important and integral part of Bitcoin, that ensures fairness, while keeping the Bitcoin network stable, safe and secure.
Mining equipment plays a very important roll in the process. The faster the mining hardware can process, the faster the Bitcoins are issued. This puts allot of pressure on computer hardware manufacturers in being able to produce the fastest processing chip possible, as well as keeping up with evolution. Bitcoin miners have used various types of hardware over time ranging from CPU, GPU & FPGA hardware to currently mining with an application-specific integrated circuit, or better know as the ASIC microchip.
There are only a few sources available where you can find ASIC mining hardware and one of them is through HEX Mining. Some of the challenges being seen today are that resellers are not able to keep up with the incredible demand for mining hardware.
The HEX Mining ASIC Bitcoin Miners come in the following speeds:

About HEX Mining
HEX Mining (http://www.hexmining.com/) is quickly becoming known as the industry leader by their transparent nature. HEX Mining is a manufacturer and supplier of Bitcoin mining hardware and services. They have offices in the United States and China along with an organization of the top producers of ASIC Chips and Bitcoin Miner related hardware.
Today HEX Mining has both Bitcoin hardware and managed Bitcoin hardware solutions. Products come in both GigaHash and TeraHash processing speeds. As the industry gets more competitive they will continue to secure the right relationships to keep in line with evolution of the cryptocurrency industry. Currently the demand is extremely intense and the pressure is on the manufacturers and distributors to deliver the goods. And that's exactly what HEX has set out to accomplish.
The HEX Miner 230 GigaHash ASIC Miners are currently in stock and their TeraHash products and services are currently in a pre-order stage and they plan on delivering in April 2014. HEX Mining accepts payments in the form of checks, wire transfers, and of course Bitcoins.
HEX Mining is also proud to be an Escrow.com seller, which arms consumers with confidence during their transactions.
HEX Mining
webmaster(at)hexmining(dot)com
Phone: (877) 804-7671
Website: http://www.hexmining.com