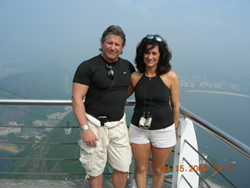 Diet Doc offers their prescription Sermorelin HGH for sale to qualified patients across the country
San Diego, CA (PRWEB) March 25, 2015
Already a popular staple of the Diet Doc product line, the powerful anti-aging therapy medication sermorelin has helped thousands feel younger, utilizing potent peptides to enact outcomes like skin rejuvenation, increased energy, and increased fat reduction. Now, Diet Doc has released a newly renovated, more potent formulation of their proprietary prescription sermorelin product. A safe alternative to ingesting or injecting pure human growth hormone, this potent secretagogue naturally stimulates the body's HGH production to more youthful levels, but without the side effects commonly associated with pure HGH intake.
Growth hormone replacement therapy (GHRT) using recombinant human growth hormone (rHGH) has been used in age management for some time, becoming one of the most effective methods for opposing somatic senescence currently available. However, its routine use has been controversial because few clinical studies have been performed to determine the potential risks of long-term therapy.
Diet Doc's newly reformulated sermorelin HCG anti-aging therapy bypasses the risks associates with consuming pure human growth hormone, as it is a secretagogue, a substance that causes another substance to be secreted. Thus, Diet Doc's sermorelin simply signals the body to increase production of HCG naturally, curtailing the side effects thought to be caused by the intake of pure HGH.
Although many weight loss and nutrition companies offer HGH for sale, only Diet Doc offers prescription-only sermorelin anti-aging therapy, made in a USA based, FDA approved compounding pharmacy, along with a full doctors consult to address all questions and concerns for every patient before its use. Unlike competitors who offer HGH for sale from foreign pharmacies, Diet Doc only prescribes 99.99% pure, American made sermorelin, and delivers not just this potent peptide directly to patients' homes, but provides comprehensive medical consultation for all patients before prescription and use, ensuring the utmost patient safety and effectiveness of the medication.
While various HGH outlets may be available via the internet, these over-the-counter supplements are normally manufactured outside of the U.S. with no safety guidelines to ensure patient safety and satisfaction, and typically contain unknown fillers that may be unsafe. Only Diet Doc provides the comprehensive care necessary to safely and effectively use sermorelin.
Diet Doc offers their prescription sermorelin HGH for sale to qualified patients across the country. Those interested in boosting energy, increasing lean muscle mass, reducing body fat, and strengthening the immune system need only contact the company and complete a thorough yet simple medical evaluation and online doctor consultation. The sale of this powerful anti-aging treatment is strictly regulated in the U.S. and is impossible to obtain without a physician prescription.
Purchasing HGH from anyone other than a physician has no value and may result in dangerous side effects. Only authentic sermorelin HGH anti-aging therapy can provide the true advantage of this amazing hormone. HGH for sale elsewhere can cause serious health problems, as it is commonly untested and from untrusted sources. For all Diet Doc sermorelin HGH for sale, patients will find a Certificate of Analysis, performed by a third party laboratory, which details the quality and quantity of ingredients, with each shipment of their prescription.
About the Company:
Diet Doc Weight Loss is the nation's leader in medical, weight loss offering a full line of prescription medication, doctor, nurse and nutritional coaching support. For over a decade, Diet Doc has produced a sophisticated, doctor designed weight loss program that addresses each individual specific health need to promote fast, safe and long term weight loss.
Diet Doc Contact Information:
Providing care across the USA
Headquarters:
San Diego, CA
(888) 934-4451
Info(AT)DietDoc.info
http://www.dietdoc.com
Twitter: Here
Facebook: DietDocMedicalWeightLoss
Linkedin: Here