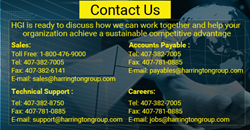 Harrington's products will bridge the gap between your production system and the quality system and raise your position in the market by increasing production efficiency.
(PRWEB) September 11, 2016
Quality Management comprises activities and tasks which enhance a business through increased customer satisfaction with products and services. Quality planning, quality assurance, quality control and quality improvement are the main components of Quality Management and will help secure the future prosperity of an organization once sound protocols addressing them are implemented correctly.
By improving the quality of products and services, a business can achieve even its loftiest goals. Yet a focus on quality organization requires understanding industry best practices and the adoption of a total Quality Management system. Our software will assist businesses in developing action plans to help identify and correct quality issues, manage inspections, conduct audits, analyze the root causes of quality problems and set policies and training on quality-related matters.
Why does a business need quality management software? How will it benefit an organization? These are common questions that are easily addressed. First and foremost, it will assist a business in streamlining production and provide with marked efficiency improvements. In addition to that, it will also help:

For every dollar in increased sales, a business will recoup 10% net profit to bottom line due to costs associated with marketing and overhead
Get production and service on track and on schedule.
Lower the time needed to complete critical tasks.
Eliminate the need for continuous follow-ups.
Eliminate outdated paper-based quality control practices.
Meet important international quality standards such as ISO 9001:2015.
Prepare organization to meet the latest regulatory and industry standards.
Inculcate a culture of quality among employees with adequate training.
Reach high value customers.
Improve operational efficiency and profitability.
Helps a buisness stand out from competitors who do not prioritize quality concerns.
Every dollar saves on operational costs, and other areas of an operational process is another dollar added to the bottom line. Harrington Group believes in saving money that would have otherwise been spent fixing problems that wouldn't occur with a functioning quality management program in place is the most important reason for adopting our continuous improvement and quality management software.
In short, Harrington's products will bridge the gap between the production system and the quality system and raise a business position in the market by increasing production efficiency, product quality, and customer satisfaction at the lowest possible cost. Quality matters.