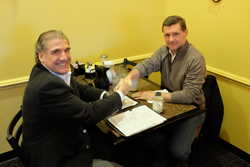 K4Community has brought tremendous value to our senior living portfolio. Our residents and staff truly value it, and we've seen tangible operational ROI... - Richard Williams, HHHunt SVP of Spring Arbor Senior Living
RALEIGH, N.C. (PRWEB) January 29, 2020
K4Connect, a mission-driven technology company that creates solutions that serve and empower older adults and individuals living with disabilities, announced today the further expansion of its partnership with HHHunt's Spring Arbor Senior Living, operator of Spring Arbor assisted living communities across the Mid-Atlantic. Throughout 2020, HHHunt's Spring Arbor Senior Living plans to expand its technology offering with new voice technologies, while adding additional communities to its K4Connect-enabled portfolio of communities.
This expansion comes three years after HHHunt signed on as K4Connect's very first customer to implement K4Community, the company's flagship technology solution designed for senior living, in 2017. Over the years, hundreds of residents and staff have benefitted from responsive environments enabled by smart home automation, more connected experiences through digital content and communications, and improved engagement with community activities, staff, family and fellow residents. The technology has also helped improve the organization's overall occupancy, sharpened its market differentiation and positively impacted operational costs. The addition of leading-edge voice assistant technologies will now give Spring Arbor residents and staff voice-activated control of smart home features, community content and daily activities.
"K4Community has brought tremendous value to our senior living portfolio. Our residents and staff truly value it, and we've seen tangible operational ROI including, as an example, a meaningful contribution to a 15 point vacancy decrease at one of our communities," said, HHHunt SVP of Spring Arbor Senior Living, Richard Williams. "We're committed to continuing to leverage innovative technologies like voice to provide great experiences for our residents and staff with K4Connect, which is why we're planning to extend the K4Community solution from today's 10 to 13 Spring Arbor communities, while expanding our original agreement from two years to four more years."
Voice technology has proved more than a novelty for assisted living residents, including easing access and engagement for those with visual and mobility impairments, and in communities voice-enabled to date, seeing over 70 percent daily adoption rates. Spring Arbor will introduce voice through Amazon's Alexa across all of its K4Community-enabled assisted living communities this year, providing voice-activated community content, automated home features and K4 Alexa Skills customized to community needs. And residents are already seeing the benefits, as one Spring Arbor of Crofton resident said, "The fact that it can call the front desk is very beneficial."
"We firmly believe the future of senior living is in Smart Senior Living Communities, and HHHunt is a prime example of that journey. When we first worked together, voice-first technology wasn't even on senior living's radar. Now, we're bringing this technology to hundreds of residents using the same extendable system we implemented three years ago, K4Community," said K4Connect CEO and co-founder F. Scott Moody. "We're excited to continue our innovative partnership and for what's to come in 2020 and beyond."
K4Connect is the leading provider of enterprise-grade technologies for senior living communities, currently serving more than 28,000 residents at over 120 premier continuing care, independent living, assisted living and memory care communities across the nation. The company's patented (28 US patents to-date) operating system, FusionOS, on which K4Community is built, is the first and only of its kind in senior living. To learn more about K4Connect and its solutions, visit us at http://www.k4connect.com.
About HHHunt
HHHunt is a diversified regional real estate development and management company with residential communities in Virginia, North Carolina, South Carolina and Maryland. HHHunt, with primary offices in Blacksburg, VA, Richmond, VA and Raleigh, NC, employs over 1700 people in the areas of community development, home building, apartment living and senior living development and management.
About K4Connect
K4Connect is a mission-driven technology company that creates solutions that serve and empower older adults and individuals living with disabilities, together with the people, communities and organizations that support them. K4Connect's solutions integrate the latest in Smart Home, Smart Wellness and Smart Living technologies into a single easy-to-use solution designed specifically for and with those they serve. The Company's premier solution, K4Community, is currently being used by tens of thousands of senior living residents and staff across the country. For more information, please visit http://www.k4connect.com.