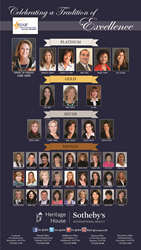 "The company strives for quality not quantity," says Burke.
Shrewsbury, New Jersey (PRWEB) March 05, 2014
Six platinum, three gold, five silver and 27 bronze… Sound like a rundown of Olympic wins? In a sense it is, as sales associates at Heritage House Sotheby's International Realty (HHSIR) scored another impressive list of achievements in 2013, earning a total of 41 NJAR® Circle of Excellence Sales Awards®.
That equates to 25 percent of the company's sales associates receiving a sales award, beating their previous sales award record in 2012 by nearly 40 percent. Among their many achievements in 2013 was representing the single highest-priced home to sell in Monmouth County at $6.4 million.
"It was another outstanding year for us," says Mary Burke, Owner, President and Broker of Record of HHSIR, an independently owned and operated full service real estate firm based in Monmouth County. "It was even better than 2012, which had been our best year in over 20 years."
The company grew 31 percent over last year in sales volume. Part of the reason for the growth was that HHSIR welcomed more than 20 new sales associates. "We recruited some of the top, experienced professionals, not only in Monmouth County, but the state," Burke says, adding to an already exceptional roster of professional sales associates.
"They continually make the clients their top priority, and exceed their clients' expectations with their unwavering commitment, knowledge and focus," Burke says. "Each and every one of them has raised the bar over last year, as they always do — catering to all price points and all clients with the same level of professionalism." The average sales associate's closed sales volume was $2.6M, ranking the highest among their competitors in Monmouth and Ocean Counties.
"The company strives for quality not quantity," says Burke. "We began in 1990, and have retained the characteristics of a boutique firm, yet we are aligned with a powerful global brand, Sotheby's International Realty®, which empowers us to deliver the highest levels of innovation, technology, global marketing exposure, and professional service to our clients at a local level."
The single highest-priced home was sold by the company's Top Producer this year, Elaine Eadon, who listed and successfully marketed the exquisite property. Elaine is a highly esteemed real estate professional who has been achieving results for her clients, listing homes from $50,000 to $8,000,000 for 25 years. A perfectionist and hard-working professional with a broad based knowledge of the real estate market in Monmouth County, Elaine is dedicated to putting her clients' needs first, and as a result has achieved honorable recognition year after year. "Our congratulations to Elaine, we are honored to have her as a sales associate, and thank her for all her extraordinary work. She is a valuable asset to her clients, as well as our company," says Burke.
Eadon was among the six extraordinary agents in the firm who received the highest level of the NJAR® Circle of Excellence® Platinum Award. It is an increasingly tough feat, requiring a minimum of $20 million in closed sales volume and 30 units closed, either listed or sold. This elite group also includes Bernadette G. Barnett, Elizabeth Lubin, Frank L. Pento, Pauline Poyner, and Kelly Zaccaro.
Three HHSIR agents received the NJAR® Circle of Excellence® Gold Award, requiring recipients to close a minimum of 25 units, either listed or sold and $12 million in closed sales volume. Members of this prestigious group are: Lydia Chen, Karen Murphy and Ali Ross.
Five received the NJAR® Circle of Excellence® Silver award for exceeding $6.5 million in close sales volume and 20 units minimum, either listed or sold. These outstanding agents were Patricia M. Caruso, Blanche Franks, Nancy B. Golden, Colleen Meyler and Jerilyn Restivo.
And a total of 27 agents received the NJAR® Circle of Excellence® Bronze award, for closing a minimum of $2.5 million in closed sales volume and 15 units, either listed or sold. The members of this distinguished group include the following: Marlene Albrecht, Anna Appolonia, Jennie Bornhoeft, Maryann Callahan, Susan Crowe, Andrea Di Paolo, Rosanne Egidio, Amelita "Amie" Faelner, Susan Farrant, Mary Fox, Kathleen Gay, Joyce Hilary, Mary Hoffman, Marta Kwiatek, Leanne Lucarelli, Barbara Mahon, Helen Mary Maresca, Cynthia Meehan, Holly Moon Oehler, Dianna Olson, Charles O'Rourke, Maria "Paulina" Pagano, Linda Paulsen, Lori Saybolt, Debra Swayze, JoAnn Wiener and Ann Wiltz.
Four agents were named members of the NJAR® Circle of Excellence Distinguished Sales Award Club®, which recognizes those members who achieved the NJAR® COE Sales Award® for ten or more years (not necessarily consecutively). They were: Maryann Callahan, Amelita "Amie" Faelner, Susan Farrant and Mary Hoffman.
"It is hard work, dedication to the real estate profession, and a coveted honor to earn the NJAR® Circle of Excellence Sales Award®. I am very proud and honored to have such a talented and professional group of sales associates representing the company. Thank you to all the sales award winners; your success represents your client's success in achieving their goals. I also want to recognize our sales associates who continually strive to achieve a sales award and work hard for their clients; as well as our management staff and administrative support team who tirelessly work in the background to keep our sales associates prepared to serve our clients in an extraordinary manner on a daily basis. Most importantly, we thank our clients for allowing us to serve them, and as a result achieving recognition of excellence in our industry," Burke says.
It's been quite a journey for HHSIR, which grew from a one office location in 1990 to the four office operation it is today, with offices in Holmdel, Middletown, Rumson and Shrewsbury, where a separate corporate headquarters resides. In 2005, the company was invited to affiliate with Sotheby's International Realty®, dedicated to providing premier service to buyers and sellers on a local, national and global level. Burke selected the brand knowing that global exposure and high quality service was critical to the company and more importantly, to achieve the highest success for her clients.
It was a well-timed affiliation. From 2005 to 2013 the company grew by 80 percent. Since placing that very first blue real estate sign on a lawn, signifying the partnership, the company has continued to do well, increasing sales, and attracting the finest real estate professionals in Monmouth County. "The sign represents luxury," says Julia Miller, HHSIR's Director of Marketing and Business Development. "Like any iconic symbol – the Nike Swoosh mark, the five interlocked Olympic rings symbol – the blue sign exudes, like no other, a level of luxury that's different for different people Luxury is in the eye of the beholder," says Julia. The company understands that, and markets to its diverse clientele as though each and every property is a luxury. Everyone gets the same marketing, the same exposure, the same extraordinary service.
The brand's international reach – it has overall 14,000 sales associates, 700 offices in 49 countries and territories, and continues to grow – has also helped HHSIR to service all clients at the same level, while providing local, national and global exposure. They have utilized Sotheby's International Realty®, savvy, unique marketing materials and enhanced their digital marketing presentation, Anthology, via the IPad and e-marketing. Sotheby's International Realty® was the first real estate brand to align with Adobe Publishing, rolling out a marketing app designed to equip sales associates with an ease of access marketing presentation at their fingertips via the iPad and updates via the App store, and easily keeping their clients informed of brand marketing initiatives worldwide with a "click or tap" to show, present, or watch a video or email. They continue to promote their media partnerships globally, as 45 percent of the corporate website attracts international views, and the local site attracts 10 percent international viewers. From a local/metropolitan marketing perspective they continue to increase their brand online exposure with the New York Times and the Wall Street Journal, where all properties are listed 24/7 at all price points.
In 2013, the Sotheby's International Realty® introduced waterfront, farm and ranch, historic, and golf lifestyle websites to further expose their client's property to a broader global online audience interested in specific lifestyle niches. All are mobile enabled. Over 50 percent of searches for real estate are done on a mobile device vs. a traditional computer today, and mobile enabled websites, as well as real estate mobile Apps, are being more readily used. To meet the clients' mobile needs HHSIR expanded their company SIR mobile App with individual Agent SIR mobile Apps. Every agent is assigned their own mobile code and all searches under their specific code are directed to that agent, assuring their clients they are connecting online via mobile.
Inside the company—innovation, tools, technology and sales associate education has been the focus. The company introduced multiple platforms in 2012, and 2013 was about learning to use them, enhancing them and bringing them to the client. These platforms include enhanced video, on-line transaction management/systems, expanded digital marketing presentations, the use of e-books, focused agent on-line and off-line marketing, and agent development with all roads leading to better client service. "In the last 10 years I have seen real estate innovation move from glossy photos tucked inside of a folder to state of the art digital 3-D presentations and virtual home staging viewable from anywhere in the world (at a moment's notice)," says Burke. "We work in a world where information is at our fingertips in a flash and we have just a few moments to make a good online impression. Yes our reputation stands, but our ability to service our client in an extraordinary manner online must stand as tall as our reputation. So in keeping with the reputation of our brand – Beyond the Extraordinary – we continue to absorb and educate ourselves on the innovative tools, technology and marketing that can help us better serve our clients both online and offline and that will bring success to our clients."
Not one to sit back and enjoy her successes, Burke instead chooses to give back to local communities with continued support to various local projects and organizations including the YMCA, K. Hovnanian Children's Hospital, Meridian Health Foundation, Helen F. Graham Cancer Center and Research Institute, as well as local school and sport organizations. "We're very involved with our local communities, and the community has been very supportive of us."
Looking ahead, Mary sees expansion within Monmouth County, and with continually low inventory and attractive interest rates, it's a good time to buy and sell. Couple that with award winning realtors, and another season of top honors is all but certain, Burke says. "The ultimate victory though," she says with a smile, "Is the connection we have with our clients, knowing that they have received the finest representation on what, in many cases, is their most precious investment. Our number one goal is to put our client at the center of every decision we make, which constantly challenges us to think out of the box and anticipate what is next."
Heritage House Sotheby's International Realty is an independently owned and operated full-service brokerage with four offices in Holmdel, Middletown, Rumson and Shrewsbury. The firm's Corporate Headquarters is located at 834 Broad Street, Shrewsbury, New Jersey 07702. For additional information, including office locations and phone numbers, please visit their website at http://www.heritagehousesothebysrealty.com.