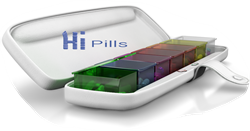 Hi Pills Smart Pills Dispenser connects to mobile phones and reminds people to take specific pills exactly when they need to.
(PRWEB) May 14, 2014
Impairment (MCI). Locally owned Italian company Hi Pills hopes to make the overwhelming process of keeping track of taking pills a lot easier with the launch of their one-of-a-kind Hi Pills Smart Pills that reminders users to take specific pills at specific times. Children, the elderly, recovering patients, and those who have been seriously ill or had some kind of surgery find it extremely tough to remember the antibiotics and the painkillers plus the rest of the medications that they need to take. To raise funds for this project that aims to improve the accessibility of this device through manufacturing and certification, Hi Pills has launched their Indiegogo campaign.
Hi Pills Smart Pills Dispenser was designed to ensure that the pill intake of these groups as well as those who are mentally or visually impaired could be carefully monitored by loved ones and cared givers. This hi-tech medication reminder with different colored boxes has a medicine direct sensor that connects automatically to a mobile phone through a mobile app to help users and pharmacists manage and supervise the regular intake of pills. The app sends the user reminders when the dispenser unlocks, and it also sends a second mobile phone (for example: working parents and care givers) an alert when the dispenser is opened to help them stay more organized. The app also supports communicate, advice, and manage functionality that includes, but is not limited to setting the box color for specific pills, the time to take them, alerts for when the pills are taken or not, and reminders for other users as well.
Speaking about what inspired him to come up with the idea of this portable device that can connect to any mobile phone irrespective of the user's location, CEO of Hi Pills, Alessandro Florian said, "I was worried about my kids not taking their vitamins and tablets on time when I was away at work. This is when I thought that a device-activated message on my mobile phone would be a great reminder to monitor whether they were taking their pills or not. Hi Pills Smart Pills Dispenser does exactly that; it connects to mobile phones and reminds people to take specific pills exactly when they need to."
Apart from aiming to showcase their competency in information technology with the use of the Internet in some far-off country, people from all walks of life are inspiring the company to reach their goal. If the fundraising campaign is successful, backers should receive the first production of the device by October 2014.
More information about this device and the Hi Pills Indiegogo campaign are available here.
About Hi Pills:
Hi Pills is an Italy-based pills dispenser dealer that is committed to using only Italian labor to create and market its devices. They specialize in creating devices that sync with mobile applications to dispense pills for proper pill management and intake.
Media Contact:
Alessandro Florian
Office: (0039) 3292496290
Email: info(at)hipills(dot)com