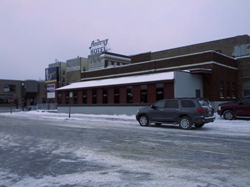 Hibbing, MN (PRWEB) January 26, 2016
Premier auction company Micoley.com is thrilled to announce a fantastic commercial property in Downtown Hibbing going up for auction on February 24, 2016. The property was originally erected as a transportation hub for trolley cars, and has undergone many changes over the years, including its recent incarnation as a bar and restaurant. The versatile commercial option is 6,111 square-feet and offers many features appealing to a wide variety of business owners.
Located at 531 E Howard Street in Downtown Hibbing, the property features a partial basement ideal for storage, as well as a mezzanine with office space. The real estate gem offers numerous aesthetically pleasing features, including stunning interior finishes complete with exposed brick, tongue-and-groove wall coverings, and hardwood and tile floors. Additional features include an exposed industrial ceiling, full bar with casual dining and solarium seating, and a formal dining room featuring more solarium seating. A commercial-grade kitchen updated in 2005 is also featured.
Hibbing is a vibrant city located in the heart of Minnesota's Iron Range. It is 72 miles northwest of Duluth and 90 miles south of the Canadian border. The city serves as the region's center for healthcare, government, retail, education, and professional services, and also happens to be the hometown of one of the twentieth century's most iconic musicians and songwriters, Bob Dylan.
In addition to the charm of the historic downtown, there are many more excellent reasons to purchase property in Hibbing. It offers much in the way of public art, something that remains a top tourist draw. Public art in Hibbing includes the Hibbing High School Auditorium, which was modeled after The Capital Theater in New York City, and the Mining Mural. The 60-foot mural is located in the Hibbing High School Library and serves as a tribute to the iron industry.
The Howard Street property is listed at $185,000, with an opening bid of $149,500. Contact Micoley.com today to learn more about this wondrous property in historic Hibbing.
About Micoley.com:
Micoley.com was created to "transform the real estate industry," and functions in conjunction with W.M. Enterprises, Inc. President and CEO, Wade T. Micoley has served as a real estate industry leader for over 30 years, and continues to provide marketing solutions to his wide range of clients.
"Today we serve the real estate community in both the banking and private sectors with customized, accelerated marketing programs," says W. Micoley. "Programs can be tailored for financial institutions, commercial and corporate clients as well as the individual property owner to help face our current and unpredictable economic environment. As a result of our aggressive marketing plan, Micoley has successfully assisted many clients across the United States."
For more available luxury properties, please contact Micoley.com.