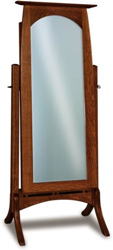 The jewelry storage is cleverly integrated into the back of the mirror. So it's not easily apparent.
SHIPSHEWANA, Indiana (PRWEB) January 30, 2020
The Boulder Creek Beveled Jewelry Mirror from Brandenberry Amish Furniture represents the perfect way to look one's best before going out and being seen. It also prevents one's jewelry from being seen.
The mirror comes with an easy-tilt feature. So it readily adapts to everyone's height. Also, customers can request a jewelry compartment behind the mirror. It's the ideal way to keep precious items in a secret place. In fact, the jewelry compartment has room for items like rings, earrings, bracelets, broaches, necklaces and accessories.
Attractive and functional, the Boulder Creek Beveled Jewelry Mirror blends perfectly into a bedroom or large bathroom. In addition, it works well as a stand-alone piece. Or, customers can complement it with other items from the Boulder Creek Bedroom Collection. These items are also available from Brandenberry Amish Furniture.
"The jewelry storage is cleverly integrated into the back of the mirror. So it's not easily apparent," observes Floyd Eash, furniture consultant at Brandenberry Amish Furniture.
The jewelry mirror is handcrafted by skilled Amish cabinetmakers. Also, the craftsmen use quality regional hardwoods, like maple, oak and cherry so the mirror is superbly constructed. In fact, with proper care it can easily become a future family heirloom.
Customers can order the Boulder Creek Beveled Jewelry Mirror online or, they can visit Brandenberry's furniture store on the south edge of Shipshewana, a small Northeast Indiana town.
About Brandenberry Amish Furniture
Brandenberry Amish Furniture is located at 1045 N. State Road 5 in Shipshewana, at the intersection of State Road 5 and US 20, near the Indiana Toll Road. The store is open Monday through Saturday from 9 a.m. to 5 p.m. and by appointment.
Brandenberry Furniture opened its doors in 2008. The Brandenberry Furniture concept allows customers to design the furniture of their dreams…to explore the rich woods and stains that only nature can offer. Nothing matches the feel, the smell and the weight of hickory, oak, cherry, maple…real woods that come to life in an Amish handcrafted piece. They are meant to last a lifetime and beyond.
Whether a customer's favorite style is Mission, Traditional, Modern or something in between, if Brandenberry Furniture doesn't carry it, their craftsmen will build it to specification.
Brandenberry Furniture offers everything from bedroom and dining collections to home accessories, patio and exclusive furniture pieces. Browse our easy-to-use website with detailed photographs and information, and you'll find furniture categorized by room (including family room, dining room, bedroom, office, children's) as well as by wood species (including oak, hickory, cherry, elm, maple, pine and cedar) and style.