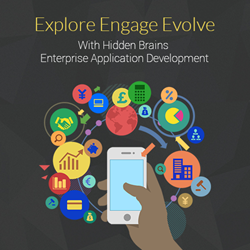 Hidden Brains is highly optimistic about harnessing BlackBerry® services and the unbound possibilities it holds for creating new milestones in the connected world.
Ahmedabad, Gujarat, India (PRWEB) November 25, 2014
Hidden Brains, a leading Enterprise Application Development opens up new possibilities for the connected world by re-imagining the IoT, and leveraging disrupted technologies with cutting-edge enterprise mobility solutions.
"Hidden Brains is highly optimistic about harnessing BlackBerry® services and the unbound possibilities it holds for creating new milestones in the connected world. Enterprises worldwide can benefit from the unending opportunities BES holds for streamlining the way mobility is managed while improving competencies for better communication, efficiency and security", shares Mr. Pramod Sinha, Advisory Board Member at Hidden Brains.
Harness the Power of BES
Hidden Brains intends to explore new possibilities harnessing the power of BES – the comprehensive portfolio of enterprise security, productivity, identity and communication, besides collaboration services from BlackBerry®. This will not only facilitate organizations secure connectivity amongst employees; in fact, BES securely manages devices from all of the major enterprise mobile platforms.
End-to-End MOBILE ENTERPRISE SECURITY
Hidden Brains harnesses the power of path-breaking innovations in enterprise mobility to build SECURE systems for businesses. Explore high-end enterprise solutions from Hidden Brains that will boost and set new levels of productivity for end users; while ensuring safeguarding corporate data, and helping businesses transcend to the next level.
ENTERPRISE MOBILITY MANAGEMENT Matters
Businesses are increasingly looking to move beyond short-term management solutions and adopt all-encompassing solutions for harnessing workforce mobilization. Hidden Brains with profound industry expertise in mobility, data analytics, business intelligence, cloud, social, and security can help enterprises capture new markets with breakthrough Enterprise Mobility Management solutions.
Empowering the CONNECTED WORLD with IoT
Enterprises and end-users in this new connected world are leveraging apps, platforms, and technologies to empower them work faster and efficiently. Hidden Brains Enterprise Solution powered by Internet of Things (IoT) is all set for a paradigm shift in consumer perception about connected technology, where consumer adoption of network-connected devices (such as in-home smart appliances and wearable technology) is set to grow manifolds in the next five years.
Hidden Brains with BlackBerry® Shines at CeBIT India 2014
Hidden Brains participated in CeBIT India (12-14 November, 2014) at Bengaluru - with BlackBerry®, and is heartened by the incredible response and successful business relationships it built. Hidden Brains look forward to harness innovative Enterprise Solutions in exploring new possibilities of creating seamless business processes for enterprises.
Discover possibilities with Hidden Brains if looking to:

Experience Innovation with futuristic enterprise mobility solution.
Transcend business to the next level with IoT.
Empower businesses by reducing technology bottlenecks
For more information, drop a line to biz(at)hiddenbrains(dot)com to schedule a meeting with the Business Consultants for Enterprise Services.
About Hidden Brains:
Hidden Brains is a global provider of IT consulting and Enterprise Solutions in India catering to various technology platforms and addressing complex business challenges across diverse industry domains like eLearning, security, healthcare, retail, oil and gas. Hidden Brains' team of passionate innovators and industry experts help enterprises increase productivity, enhance collaboration and drive more transactions. For more information, visit http://www.hiddenbrains.com
About BlackBerry®:
BlackBerry®, a global leader in mobile communications that revolutionized the mobile industry aims to inspire the success of millions of customers worldwide by creating milestones in enterprise mobility and continuously pushing the boundaries of mobile experiences. Known for its pioneering 'secured' mobility services, BlackBerry's security is trusted by thousands of enterprises around the world. For more information, visit http://www.blackberry.com
Media Contact
Hidden Brains Infotech
USA : +1- 323-908-3492
India : +91-989-802-1433
Email: contact(at)hiddenbrains(dot)com