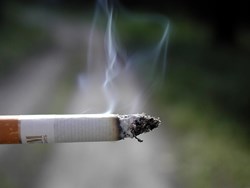 New York, New York (PRWEB) July 19, 2013
Hidradenitis Suppurativa, also known as acne inversa or HS, is an inflammatory skin disease. It may look like boils and has a pus-like discharge. The HS open wounds are difficult to health, and some people have resorted to surgeries. A lot of resources and forums online tend to link smoking with hidradenitis. Some people also believe that smoking cessation can help cure the skin condition. HSGoAway.com has now featured smoking as a major trigger for HS at http://hsgoaway.com/hs-and-smoking.
Hidradenitis Suppurativa is not yet well-known. Lots of people are affected by HS, yet there are not enough doctors that know about it. There are a number of groups and websites online that promote its awareness just like HSGoAway.com. HS sufferers and those affected by HS can join the HSGoAway Facebook page to show their support for Hidradenitis Suppurativa awareness.
Current belief is that those prone to HS are people who are smokers, overweight, and have hirsutism (excessive hair growth).
HSGoAway has now featured a study about smoking and HS. The purpose of the information shared by HSGoAway is to shed light between the link of the skin condition and smoking. The study was performed by König A, Lehmann C, Rompel R, and Happle R. of the Department of Dermatology, Philipp University, Margurg, Germany. The title of their study was "Cigarette smoking as a triggering factor of hidradenitis suppurativa". The goal was to evaluate the influence of smoking habits on the manifestation of the disease. More details at ncbi.nlm.nih.gov/pubmed/10393449.
The researchers have concluded that cigarette smoking is a major triggering factor of hidradenitis suppurativa. Smoking cessation is also encouraged for HS patients, although there is still no proof whether smoking cessation can treat hidradenitis suppurativa.
An HS spokesman explains, "The result of the study was enough for us to believe that there is a link between HS and smoking, although the study only had a small sample size. A study with a large sample size is needed. Hopefully, raising HS awareness can encourage doctors and medical professionals to make more studies about Hidradenitis Suppurativa."
For more information and to show support for hidradenitis suppurativa cure and awareness, go to hsgoaway.com/hs-and-smoking.