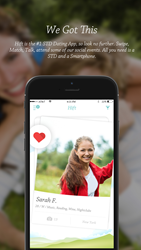 New York City, New York (PRWEB) June 16, 2015
The app, which can be downloaded by iOS and Android users, is expected to take dating to a whole new level. Hift ranks top amongst renowned dating sites and has brought together people looking for love while living with Herpes, HIV and other STIs. Hift users can mingle, chat and hook up with other members nearby. The platform provides users with an environment void of judgment, criticism and stigma.
A recent survey has shown that there are 400 million people globally living with STDs, over 100 of which are in America. This brand new app has already seen a flux of users and is growing rapidly.
Hift is extremely easy to use. Search other profiles nearby and simply swipe left if you don't like them and right if you do. If both users swipe right,they will get a Match. Matched users can converse with each other. Whom you 'like' and 'dislike' is completely anonymous.
Hift has an in-app forum Topics where users can post and talk about whatever they like. Topics is the perfect place where members can seek and offer advise. Hift offers support for those newly diagnosed, those living with STIs long term and anybody looking for love.
Hift also features Moments. This is where users can post images of what they are doing and offers users another means to finding a potential Match.
Unlike conventional dating websites, Hift removes the worry of 'what if they no longer want to be with me when they find out I have an STI?'. Hift means that those positive singles with STIs do not need to worry about finding love and telling that person they have an infection. The app is a supportive, honest network, where everyone already has at least one thing in common: an STI.