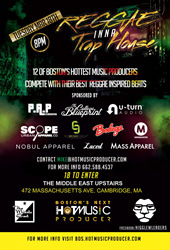 The show's intentions are to support the community, artists, and Boston's artistic culture.
Boston, MA (PRWEB) March 12, 2014
Higg-Lew Leaders, a mentoring collaboration for Roxbury's Higginson Lewis School, gathered support from this year's Boston's Hot Music Producer featuring at Middle East – Cambridge March 18th. The competition, which originated in New York City, features city-wide producers battling head-to-head with original works over this year's theme; Reggae. The show's creator mentioned that the show's intentions are to "support the community, artists, and Boston's artistic culture". The event will provide financial and public relations assistance to the Higg-Lew program as it seeks to add more to its educational agenda.
Featuring in this year's competition are producers; Lightfoot, Yung Homie, Teddy Roxpin, Moduloktopus, Dan Mac, Jon Glass, SoNick, Hifadility, Robert Mathis, Wes Mitch, Deskhop and Evildewer. The producers will all provide Reggae-themed productions in one-on-one rounds for the show, hosted by Boston artist & producer, Latrell James. The show will also be featuring DJ Papadon also of Boston. Sponsors of the event include; P.A.P Clothing, The College Blueprint, U-Turn Audio, Scope Urban Apparel Co., The Brown Group Worldwide, Bodega, MMMMaven, Nobul Apparel, Laced, & Mass Apparel. Performers were pulled from the city that includes Northeaster University step-team S.O.U.L, Boston University's Yung Homie and Zaid Tabani of Berklee. Mark Merren sits on the judges panel alongside Darcie Nicole and David Day.
Higg-Lew Leaders is a collaboration started by three graduate students from Northeastern Law School and MIT, all with teaching backgrounds. The group brought volunteers in to tutor and provide enrichment to seventh and eighth grade students at Higginson-Lewis school in Roxbury. The founders recognize disparities in our educational system and believe in educational equality for all students. Higg-Lew Leaders runs from 3:45-6:00 Monday-Thursday, the program will engage seventh and eighth graders in an hour of academics followed by an hour of enrichment. The first hour will focus on civics instruction and literacy skills. The second hour develops student talent in such areas as art, music and a school newspaper. Each Thursday is dedicated to a career series that exposes students students a variety of potential career options. A portion of the program will also be dedicated to assisting students with getting accepted into competitive summer programs and high schools. It is our goal that Higg-Lew Leaders not only build sustainable relationships with volunteer mentors and with each other, but that they also be empowered to become change agents in their community.