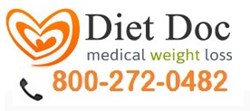 Diet Doc is dedicated to providing patients with the easiest and most comfortable transition to a slimmer figure and includes hormone diet treatments to actively suppress the appetite and increase patient energy
Houston, TX (PRWEB) October 29, 2013
While many diet plans offer fat burning treatments that could help patients in Texas reduce their weight, most of those programs fail to utilize prescription strength hormone levels and do not combine their treatments with low calorie, healthy recipes. Diet Doc's unique approach to ridding patients of excess and embarrassing fat helps patients easily reach their fast weight loss goals without any of the discomfort or negative side effects commonly associated with dieting. Because each treatment contains prescription strength hormone levels, patients who combine their treatments with healthy recipes will begin seeing nearly immediate fast weight loss, with some patients losing up to almost a pound per day.
For hormone treatments to effectively target stored fat and flush it from the patient's body, higher hormone levels are necessary. Unfortunately, many medical weight management programs utilize only homeopathic hormone levels that are not powerful enough to produce any fast weight loss results whatsoever. Once Diet Doc patients decide to begin their fast weight loss journey, they only need to consult a Diet Doc physician and will receive their one-year prescription for hormone diet treatments. All nonprescription supplements can be ordered over the phone or the internet and will be shipped directly to the patient's front door. And, within each shipment, patients will receive a Certificate of Analysis detailing hormone levels and the levels of each active ingredient contained in Diet Doc treatments.
Patients can begin taking their hormone diet treatments upon receiving them and will begin working with one of Diet Doc's certified nutritionists to develop healthy recipes that will enhance the effectiveness of the higher hormone levels. Considering the patient's age, gender, health history, lifestyle and food preferences, nutritionists will create healthy recipes that include all necessary nutrients and essential elements and that will leave patients feeling full and satisfied. This personalized approach to fast weight loss not only helps patients reach their initial fat loss goals, it also makes sticking with their diet plans easier and more comfortable.
Diet Doc is dedicated to providing patients with the easiest and most comfortable transition to a slimmer figure and includes hormone diet treatments to actively suppress the appetite and increase patient energy, in addition to flushing excess fat from the body. Once patients begin following their healthy recipes and incorporating their hormone diet treatments, they will notice a significant decrease in their appetite, making sticking with their healthy recipes easy and effortless. Clients will also have the option to choose between sublingual tablets, oral drops and injections for their treatments. While each form will provide patients with fast weight loss, many patients prefer to receive their treatments as an injectable solution because it has been enhanced with vitamin B12 for an energy booster throughout the day.
And, because the Diet Doc team understands that creating healthy recipes can be challenging for those patients in Texas without a health or nutrition background, Diet Doc also provides each new patient with a copy of their exclusive cookbook. With over fifty pages of healthy recipes, patients can experiments with different recipes and try new foods while reaching their fast weight loss goals.
Diet Doc Contact Information:
San Diego, CA
(800) 272-0482
Weight-loss(at)Dietdoc(dot)info
http://doctorsupervisedweightloss.com/testimonials.php
Twitter: DietDoc10
Facebook: DietDocNaturalHealth